Food Historian, Author, Public Speaker, Italian Desert and Chocolate Expert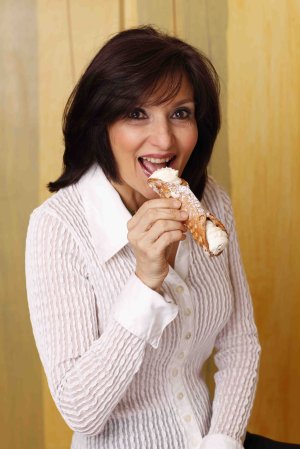 Francine Segan is a James Beard nominated author of five cookbooks. Her most recent — DOLCI: Italy's Sweets — appears in bookstores October 2011.
Francine frequently appears on TV including the Today Show, Early Show, and Sunday Morning with Charles Osgood. She has done numerous specials for the History and Discovery channels as well as the Food Network where she was recently featured on Dinner: Impossible. She is also a regular on Martha Stewart Living radio.
Francine gives amusing food talks around the country for organizations such as the Smithsonian Museum, the Virginia Fine Arts Museum, Norman Rockwell Museum, and Museum of Natural History. She moderates panels with celebrity chefs such as Mario Batali and Lidia Bastianich and at the Tribecca Film Festival Francine moderated a talk on food in film with Isabella Rosellini and Stanley Tucci.
Francine writes for several magazines including Gastronomica and Food Arts. She is a frequently quoted food expert for the Wall Street Journal, USA Today, New York Times, L.A. Times, and Chicago Tribune.
Francine's cooking classes are fun-filled and whimsical. Francine spices them with not only delicious recipes, but also fascinating foodie factoids, and lots of practical cooking tips.  She teaches cooking at Eataly, the Institute for Culinary Education, and Sarah Lawrence College.
In 2011 Italy's National Association of Confectioners named Francine their USA Ambassador for Italian Desserts.
For more info on Francine's books, talks and cooking classes log onto: www.FrancineSegan.com
October events: www.francinesegan.com/events.html
Westchester Italian Cultural Center
Purchase DOLCI: Italy's Sweets below from the Italia Living Amazon store:
---
An Interview with Francine Segan, by Loraine Pavich

Where does you Italian culinary background come from?

I'm Italian-American. My mom's family was from Sicily and my dad was born in Puglia. I grew up speaking Italian. It was my first language. My home was a VERY foodie place, with big Sunday suppers at my grandmother's house. All the aunts, uncles and cousins  (about 30 of us) each and every Sunday. What I remember is that each Sunday there was different food. All AMAZING!

What must every baker have in their kitchen?

A digital scale. It is cheap and easy to use. You cannot  bake without it. If you ask 6 people to scoop out a cup of flour you will get 6 different amounts depending on how tightly they pack it.

What do you think is the most challenging dessert to make?

My thing is Italian desserts, which aren't really hard to make. The most challenging is probably cannoli shells. You have to practice and throw out 3 or 4 before you get the knack.

You were named Italy's sweets ambassador.  How did that make you feel?

Honored! We Americans know a lot about Italian food and wine but we don't really know that much about Italy's sweets. I was thrilled to be asked to help spread the word here in the United States about all the delightful chocolates, cakes, cookies, and goodies they make.

What is your favorite store bought dessert to eat?

A Sicilian cake called cassata. It's rum soaked sponge cake filled with sweetened ricotta and covered in marzipan. MMMMM!

What is your favorite pastry Shoppe in NYC?

I love this new Tiramisu place that just opened up in the village called Dolce Vizio Tiramisu. Two young Italians own it and they make 6 or so amazing flavors of tiramisu. I also love the Corsini company cookies from Italy, which you can buy at Eataly.

Where in Italy do you love to visit most?

Florence is my favorite city, but only off-season. It's too touristy during most of the spring and all summer. I also love Piedmont.

Other than desserts what savory foods do you love to cook?

Pasta! I love pasta. I also adore veggies. I make 3 or 4 different vegetable dishes for dinner.

If you can bake a 7-course dessert meal for the Italian President what would you make?

I discovered while working on my book Dolci: Italy's Sweets that it isn't just Americans that don't know Italian desserts, it's the Italians too. There are 20 regions in Italy, and often, folks from one region don't know the desserts from another region.  SO….I'd make him the 7 most unusual desserts I discovered in Italy. I even dedicate an entire chapter in my book to unusual sweets. I call it the Weird & Wonderful, Unique & Unusual chapter.

I'd select 2 from northern Italy, 2 from central Italy and 3 from southern Italy.  There are desserts made with veggies—spinach, eggplant and radicchio! Several desserts made with pasta! A little meat + chocolate pie from Sicily….

MENU:

1- Yogurt semifreddo with Radicchio Marmalade from the Veneto region

2- Tuscany's Sweet Spinach Pie (Torta co'Bischeri)

3- "Peaches" (Pesche dolci…..little cookies that look like peaches)

4- Chocolate Eggplant (Melanzane al cioccolato)–from the Amalfi Coast

5- Angel Hair Chocolate Pasta Pie (Torta Ricciolina from Emilia Romagna)

6- Sicilian Sweet Meat and Chocolate Turnovers  ('Mpanatigghi)

7- Almond Granita

What is the healthiest dessert to eat?

Italian desserts are healthy because they do not use too much sugar. Plus many of them use olive oil instead of butter. Some of my fav healthy desserts are the fruit based desserts like—Olive Oil Apple Pie and Sweet Grape Focaccia.

Another healthy fav is Italian honey cookies (just 2 ingredients: whole wheat flour +honey)

How do you stay so slender with all the baking you do?

I eat lots of lean protein and veggies and salads at mealtime. I eat sitting down, not rushing about. Also I save up my sugar allotment for dessert. I don't eat food with hidden sugar (like fruit yogurt, ketchup, relish, & processed foods).

If you could only eat one dessert for the rest of your life what would it be?

Zeppole al forno. They are delicious oven baked Italian donuts .

Describe in one word how you feel about baking?

Sexy

Who is your culinary hero?

Ruth Reichl. I had just spent several days with her writing a chapter on her for a new book that just came out called Icons of American Cooking. She's amazing!  She is self taught, adventurous and smart.

Do you have plans to write more cookbooks?

Yes!
---
Rustic Tuscan Apple Cake
Torta di Mele
From: Dolci: Italy's Sweets
By Francine Segan
A classic! At first glance it may seem like a huge ratio of apple to dough and you're going to be tempted to cut down on the apples. Don't!  It looks like a lot of apples, but they magically meld into the batter. You'll love the result. The top half of the cake is chock full of tender apples that float over sweet moist cake. Deceptively simple, exceptional results.
Ingredients:
2 tablespoons unsalted butter, plus more for the pan
7 ounces, about 1 1/3 cups, all-purpose flour, plus more for the pan
2/3 cup, plus 1 tablespoon, granulated sugar
2 large eggs
1/2 cup whole milk
2 teaspoons baking powder
1 teaspoon baking soda
Zest of 1 lemon
4 large or 5 medium apples, about 2 pounds total
Preheat the oven to 350 degrees. Butter and flour an 8-inch cake pan. Beat 2/3 cup of sugar and the eggs in a large bowl, using a whisk or electric handheld beater, until creamy and light yellow. Beat in the flour, milk, baking powder, baking soda and zest.  Pour the mixture into the prepared pan.
Peel and core each of the apples. Dice one of the apples on sprinkle the dices over the batter. Cut the remaining apples into thin slices. Spread the slices over the diced apples in the pan in a neat pattern. Scatter thin pats of butter over the apples and sprinkle with the remaining tablespoon of sugar. Bake for about 50 minutes, until dark golden and cooked through.
---
Grape Dessert Focaccia
Schiacciata all'Uva
Serves 6
From: Dolci: Italy's Sweets
By Francine Segan
This dessert is actually two focaccias, one baked right over the other, topped and stuffed with plump grapes. The bottom crust bakes thin and crisp while the top puffs up tender and cakey. Some of the grapes collapse a little and release pools of pretty purple juice, while others stay whole.
When you take a bite, you get the satisfying chewiness of bread, crunchy in spots, plus the warm grapes, which burst in your mouth. It's sophisticated and rustic at the same time. Scrumptious on its own, it goes well with a dessert cheese or a glass of red wine.
Ingredients:
10 tablespoons extra virgin olive oil, divided
2 tablespoons finely minced fresh rosemary
1 packet, 1/4 ounce, fast acting yeast
10 1/2 ounces, about 2 cups all-purpose flour
11 tablespoons granulated sugar, divided
1/2 teaspoon salt
3 pounds black seedless grapes, stems removed
2 teaspoons anise seeds
In a small saucepan, heat 4 tablespoons of the oil and rosemary until warm. Allow to cool. Reserve.
Sprinkle the yeast in 1/2 cup of warm water and let rest until it bubbles, about 2 minutes. Sift the flour onto a clean work surface or in a large bowl. Make a hallow well in the center and fill with the yeast water, reserved rosemary oil, 3 tablespoons of the sugar and salt, and slowly begin to incorporate the flour into the center hallow, until dough forms. Knead the dough until smooth and rest it in a lightly oiled bowl until it doubles, about 1 hour.
Preheat the oven to 350 degrees F. Pour 2 tablespoons of the olive oil into a rectangular baking pan, about 9 by 13-inches or 14 by 10 inches.
Put the grapes into a bowl and using a large fork or potato masher, gently mash about half of the grapes, leaving half of them whole. Don't mash them to a pulp! Just gently break the skin.
Take slightly more than half of the dough and roll it out to fit the baking pan. Put the dough into the pan and brush with the 2 tablespoons of remaining olive oil (if you like, you can use a branch of rosemary to brush on the oil). Top with 1/2 of the grapes. Sprinkle with 4  tablespoons of the sugar and 1 teaspoon of the anise seeds.
Roll out and hand stretch the remaining dough to fit the pan. It will be thin. Put the dough over the grape layer. It's okay if it doesn't fully cover the bottom layer. Spread with the remaining 2 tablespoons of oil, remaining grapes, sugar, and anise seeds. It's okay if the grapes roll off onto the sides of the pan. It all comes together nicely as it bakes.
Allow to rest for 20 minutes before putting it into the oven so the ingredients can absorb and the dough settle. Bake for about 1 hour until golden brown on top and cooked through.
Allow to rest at room temperature, in the baking pan so the focaccia can absorb the grape's juices. Serve at room temperature. It's even better the next day!
---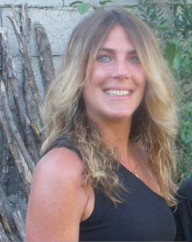 Loraine Pavich has had a diverse career in publishing with several successful magazines.