A busy culinary expert with a very Italian food & wine background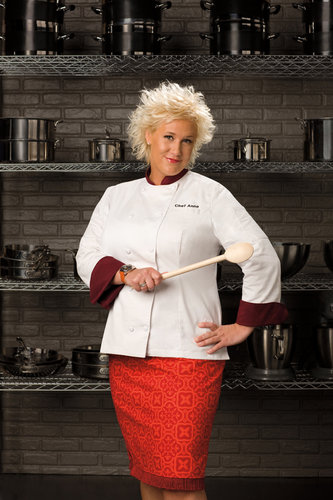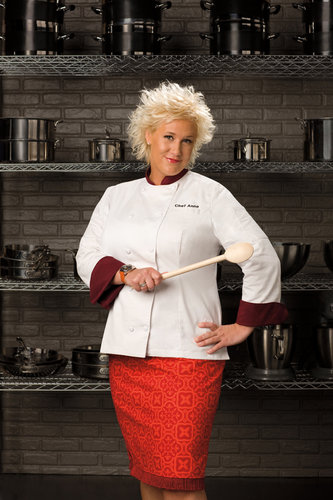 December 2010 – With her trademark spiky blond hair and pumped-up personality, Anne Burrell has worked at some of the top restaurants in New York, studied the culinary landscape and traditions of Italy, and has battled alongside Mario Batali as his sous chef on Food Network's Iron Chef America. Anne eliminates the intimidation of restaurant dishes and reveals concise, easy-to-master techniques for the at-home cook on her Food Network series, Secrets of a Restaurant Chef. Anne also co-hosts Worst Cooks in America, a primetime reality show where Anne leads a team of hopeless home cooks from around the country through culinary boot camp.
Growing up in upstate New York, Anne's passion for food and cooking began at an early age. After obtaining an English and Communications degree from Canisius College in Buffalo, she pursued her interest in the restaurant business by enrolling in the Culinary Institute of America. Following graduation, she spent a year in Italy attending the Italian Culinary Institute for Foreigners while working at La Taverna del Lupo in Umbria and La Bottega del' 30, a one-Michelin star restaurant in Tuscany. During this year, Anne grew to truly appreciate and understand the philosophy of Italian cuisine and culture, which left a lasting impact on her culinary point of view.
Upon her arrival in New York City, Anne was hired as a sous chef at Felidia Restaurant, working with Lidia Bastianich. She then served as a chef at Savoy where she cooked over an open wood fire and created flavorful menus inspired by countries around the Mediterranean. Here, Anne developed her personal culinary style – a real love of rustic food made with pure and simple ingredients with intense flavors.
Anne then took the opportunity to spread her culinary knowledge and passion as a teacher at the Institute of Culinary Education. After three years, Anne went back to the restaurant business serving as the Executive Chef at Lumi Restaurant. Shortly after, she joined the Batali-Bastianich empire by accepting a job at Italian Wine Merchants. The job also included salumi production and traveling to off-site events with Mario Batali. When Mario became one of Food Network's esteemed Iron Chefs, he knew exactly who to enlist as his sous chef – the talented and dynamic Anne Burrell.
As the Executive Chef at New York hot-spot Centro Vinoteca from its opening in July 2007 through September 2008, Anneserved up her "creative-authentic" Italian menu of small plates (piccolini), antipasti, pastas and main courses accented by her trademark bold, pure flavors.
---
Worst Cooks in America – Season 2 Premieres: January 2, 2011 at 9pm ET/PT
The country's most hopeless cooks transform from kitchen zeros to kitchen heroes as they compete in Worst Cooks in America, a high-stakes reality competition on Food Network. The primetime series puts the "recruits" through a culinary boot camp led by two acclaimed chefs, one of which is Anne Burrell. Split into two teams, the recruits learn valuable culinary skills from their chefs and are then tested in a series of high-pressure challenges. Based on their performances, they will be narrowed down each week until two are left standing to face the final challenge: prepare a three-course, restaurant-quality meal for a panel of food critics that thinks the dishes have been prepared by the chefs. On the line are the chefs' professional reputations and $25,000 for the newly-crowned kitchen hero.
For more information, videos, and photos, visit: www.foodnetwork.com/worstcooksinamerica
Secrets of a Restaurant Chef – Airs: Saturdays at 12:30pm ET/PT
With extensive experience as a top restaurant chef, Anne Burrell takes the mystery (and apprehension) out of the professional kitchen and highlights the practical techniques necessary to translate restaurant-style recipes into approachable at-home meals on Secrets of a Restaurant Chef. Based on her love for rustic food with simple ingredients and intense flavors, Anne prepares stand-out recipes perfect for a party but easy enough for an everyday meal.  She has revealed the secrets to classics like roasted chicken, grilled pork chops, spaghetti and meatballs, and steak as well as the secrets to some of her favorite dishes like piccolini, fish in cartoccio, grilled pizza, and short ribs. With many secrets still left to share, Secrets of a Restaurant Chef makes the viewer's dinner table the hottest reservation in town.
For more information, videos, and photos, visit: www.foodnetwork.com/secrets
Also, keep watch for Chef Anne Burrell's Food Network Travel cruise through the Mediterranean. www.foodnetworktravel.com
---
An Interview with Chef Anne Burrell, by Loraine Pavich

Where did you grow up?

I grew up in Cazenovia, which is in Upstate New York.

What started your interest and love for Italian cuisine?

I always thought I liked Italian food, but it turns out that what I knew of was actually Italian-American food. It wasn't until I got to Italy after culinary school that I fell in love with true Italian cuisine and the love and passion that Italians have for food.




What is your signature Italian dish?

My homemade Pasta Bolognese. (recipe at link to left)




What does every Italian cook need to have in his or her kitchen?

Olive oil, salt, pepper, crushed red pepper, pasta, San Marzano tomatoes, a good Parmesan cheese and garlic.

Can a bad home cook become a really good cook and how?

Yes but… first of all they have to WANT it. If they really want it, well then – do their research, take a class, get some books, practice recipes and START SIMPLE (don't take on too much too fast). But most of all…have fun!

If you owned a fast-food Italian restaurant what would you name it?

Fast food isn't really my game but I love sandwiches. Put anything between two slices of bread and I love it!  So I guess if I had a fast food concept, it would be called Il Panino.




If could you have dinner with Luciano Pavarotti or Frank Sinatra who would you choose, and where would you want them to take you?

I would want to go with Frank Sinatra to Vegas.  He's the chairman of the board and he seems like he was so charming.  I would want to go wherever he wanted to go. I am sure he was treated like royalty.




What dish do you like to pair with an  Italian Chianti?

Definitely a wild boar ragu.




What is YOUR favorite food show to watch on television?

Mine (laughs).  I just love love the old reruns of Julia Child and The Two Fat Ladies.




What is your favorite thing to make for the holidays?

My family does not have the one thing that we just need to have for the holidays.  We switch it up ever year.  We all weigh in on the menu, but I always get the final say (laughs).




What are some goals you are setting for yourself in the New Year?

I want to continue my culinary education.  I would also love to travel and experience as much as I can.  I am always finding ways to improve and become a better cook.




Will you ever change your trademark platinum blonde hairstyle?

I will never say never… but I can't imagine that I would.




What do you like to do on your days off in NYC?

I love to go out to eat, people watch and go out with my friends.




What is your favorite restaurant in NYC?

I have a lot of favorite places and I like to switch it up a lot.  If I had to choose a favorite it would be Babbo.




What is your favorite cocktail?

The Chef Anne Sparkler. It's Prosecco and Aperol on the rocks with a twist.




Do you have dinner parties for your friends?

Yes all the time.  I love to plan the menu, set the table and be there with my friends, laughing and enjoying good food and great wine.  Of course I also love to cook the meal.




If you were invited to the Oscars who would you have design your dress?

Pucci.  The colors and the patterns are truly stunning.  I would definitely wear Louboutin shoes.




Where do you see yourself in ten years?

If you had asked me ten years ago if I would be so lucky to be what I am doing today, I would have not believed it.  I am so grateful.  I would love to still be healthy, always cooking, happy, successful and also having a lot of fun.



---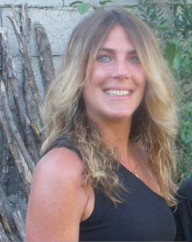 Loraine Pavich has had a diverse career in publishing with several successful magazines.