Giulia Sergas shares what helps her perform to her best…and how you can too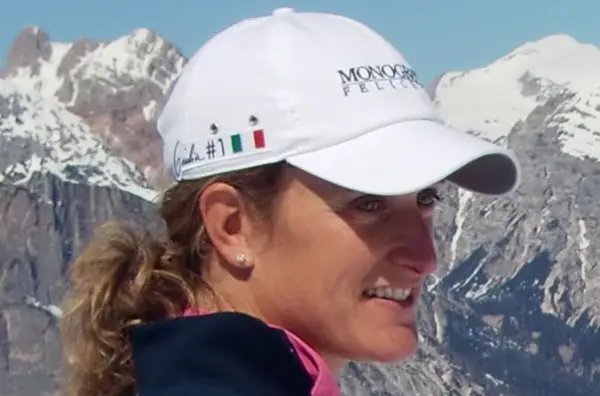 As a professional athlete I am very careful what I eat, how I eat and when I eat.
In Italy, cooking is an art and eating a meal is a sacred moment. I am an athlete and I know how food can help me perform to my best — but no matter if you play sport professionally, eating right can change the way you feel about yourself and be a winner everyday.
Here are 6 tips I follow to eat to win:
Try to cook your meals, because when you cook, you know what you are actually eating and the freshest the better.
Do not believe everything you see in an advertisement for a product! Be sure to carefully look at the label yourself: the less complicated the ingredients are on the package, the better it is.
Eat a full plate of vegetables everyday and mix as many colors as possible; carrots, beats, fennel, greens, squash, etc.
Use olive oil on your salad and avoid creamy dressing.
Stop using white sugar right now!!! Adding sugar is the worst thing to do as it causes your energy to plunge after the quick sugar rush.
I eat pasta few times a week because pasta is a great fuel for the body. It's a carb that transforms into sugar very slowly and keeps you going for a long time. The secret is to pick a high quality pasta.  One of my favorites is Monograno Felicetti made in the Dolomites Mountains of Italy, using 100% organic whole-grains like farro and kamut combined with the area's crystal clear spring water. I'm also careful in my choice of sauce, because it is not pasta that you should avoid, but creamy sauces!
Here are two recipes I love to cook the night before an important tournament. They are simple, quick, tasty and very healthy.
Tomato-Avocado-Basil No Cook Pasta Sauce
Serves 2
8 ounces pasta, preferably Monograno Felicetti – any shape
1 heirloom tomato
A few basil leaves
1 avocado
Olive oil
Bring a pot of salted water to a boil and cook the pasta until al dente.
Meanwhile chop the tomato, basil and avocado.
Toss with the strained, cooked pasta, adding a drizzle of olive oil and salt, to taste.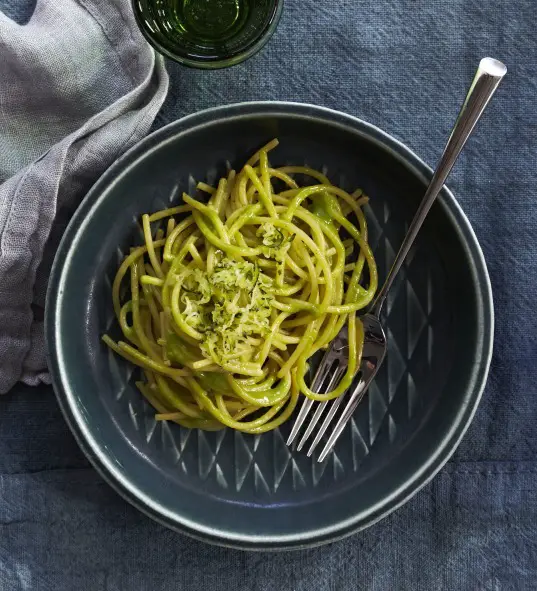 Zucchini Glazed Spaghetti
Serves 2
After it's grated, zucchini releases lots of lovely green juice, which is used to cook the pasta, coating it in a glossy glaze.
Especially delicious when made with Monograno Felicetti farro spaghetti, which imparts a naturally nutty flavor.
5 large zucchini
Salt
2 garlic cloves, minced
1 pound spaghetti, preferably Monograno Felicetti farro spaghetti
Olive oil, optional
Parmesan or other aged cheese, grated, optional
 Grate the zucchini with a cheese grater into a calendar lined with cheesecloth that's resting in a large bowl. Toss with salt and the garlic and let rest for 1 hour. Squeeze out all the liquid, you should get about 1 cup's worth of juice.
Parboil the pasta in lightly salted water, drain. Bring 1/2 cup of the zucchini juice to a boil in the same pot you just cooked the pasta. Toss in the pasta and cook until al dente, adding a little zucchini juice at a time so it quickly absorbs into the cooking pasta and creates a nice glaze.
Toss the pasta with the raw grated zucchini. Serve the pasta topped with a drizzle of oil and grated cheese, if you like.
---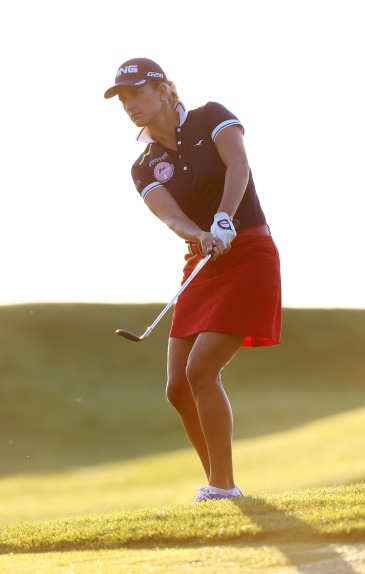 Giulia Sergas is an Italian professional golfer, playing in the LPGA Tour and the Ladies European Tour. Born in Trieste in northern Italy, she is currently living in Palm Springs, California. In her rookie season she won the Bill Johnson Rookie of the Year award.
For more info on Guilia visit her website at: www.giuliasergas.com