Andrew shares some personal insights and his love and admiration of Italy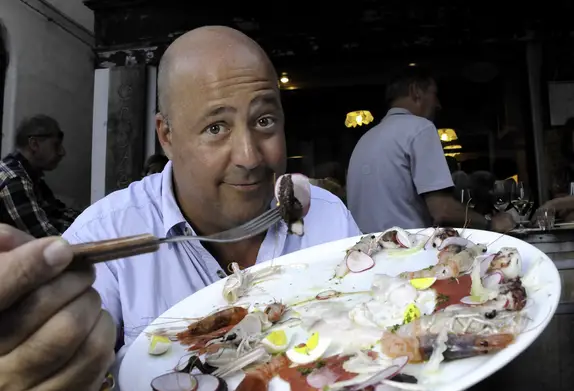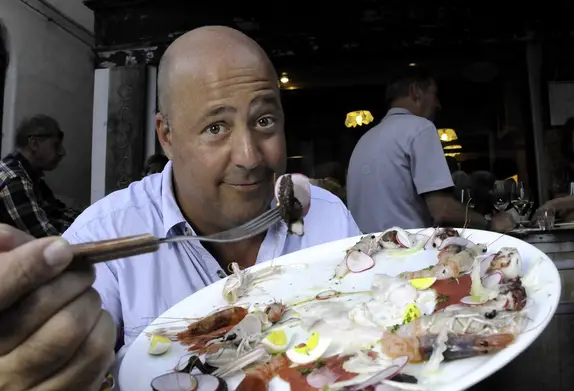 Andrew Zimmern is a chef, food writer, teacher, and is regarded as one of the most versatile and knowledgeable personalities in the food world.  He was recently presented the prestigious James Beard Award in the 'TV food personality' category for his work as host and consulting producer of Travel Channel's hit series, Bizarre Foods with Andrew Zimmern.  In the long-running series, he travels the world discovering and sharing the authentic cultural experience through food.
Born and raised in New York City, he attended the Dalton School and Vassar College.  After graduation, Andrew contributed to several of New York's finest restaurants in an executive chef, general manager, or consultant capacity and lectured on restaurant management and design at The New School for Social Research.  Andrew still cooks regularly at the James Beard House in New York City.
Zimmern is also a contributing editor, food critic and award-winning monthly columnist at Minneapolis-St. Paul Magazine and is also a senior editor at Delta Sky Magazine.  He also covers the food world with his blog, Chow and Again on www.mspmag.com. As a freelance journalist, his work has appeared in numerous national and international publications including Food Arts, Restaurant Business, NWA Traveler, Gourmet, Culinate, Bon Appetit and in the Spring of 2011, Food and Wine Magazine. Andrew is also the author of The Bizarre Truth, published by Broadway Books/Random House and has several books slated for release in the coming year.
Andrew has been a featured guest on various popular national broadcast shows such as NBC's TODAY Show, Tonight Show with Jay Leno, Live! With Regis and Kelly, The Dr. Oz Show, Access Hollywood, Nightline, and E!'s The Soup.
Andrew currently resides in Minnesota.
For more info visit Travel Channel Bizarre Foods
Andrew Zimmern explores Venice , Italy on 'Bizarre Foods' – Tuesday, February 1st, 2010 at 9pm est on the Travel Channel
---
An Interview with Andrew Zimmern, by Loraine Pavich

Where were you born and raised?

New York City, NY

Did you attend Culinary School?

I spent about 3 days in the fall of 1980 at the Culinary Institute of America.  The cooking school environment wasn't for me.  I had already been in restaurants since I was 14 and I wanted to be out where the action was.  I bowed out and took off for Europe.  I apprenticed in restaurants all over Europe in the early 80's.  I then came back to America, finished my college degree and started working in NYC as a chef in restaurants.

What was your first job in the food industry?

My first job was shucking clams and oysters at a restaurant called The Quiet Clam on Montauk Highway in East Hampton Long Island.  It was the 70's.

Did you always enjoy eating "bizarre" foods?

Bizarre is a relative word.  I have always been a very open minded eater.  I was raised in household that traveled mouth first around the world.  I really am a paler version of my father.  By the time I was 15 years old, I have eaten half of the stuff people see me me eat on my show from all the traveling with my dad.  Before I was even ten years old I was addicted to the little baby eels known as angulas that are so famously cooked Pil Pil style in Spain.  There was nothing that I wouldn't try and taste and want to enjoy and eat.

What was the best meal you had in Venice?

There is no bad food in Venice.  Venice is a city that I have been lucky enough to spend a decent amount of time in over the course of my lifetime.  I had fantastic meals at a place called Da Fiore.  It is one star Michelin restaurant that I just think is incredible.  The chef there Mara Martin does an incredible job with local product.  The great chefs in Venice will only use local products.  The surprise we found there is that they are still picking up everything from the lagoon.  There was a time when they were not picking up things from there due to the pollution.  It has been cleaned up and there has even been a lagoon reestablishment program.  All of the wonderful fish and the little crab are back and it is extremely exciting.  Another favorite is a place called Al Covo.  The chef Cesare Benelli is creating some spectacular dishes.  He does a homemade rigatoni with a pistachio pesto and a tuna borttaga sauce which is just insane.  He made me a dish of cuttlefish cooked in their own eggs, which is one of my barometer dishes.  I also love to return to a lot of restaurants I went to as a child.  Taverna La Felice makes one of the best calf's liver in the world.   I also was able to return to the kitchen where I cooked as a young man a place called Al Colombo.  It's a very high-end  fancy seafood house with fantastic art on the walls.  Literally every space of the wall is covered with this incredible artwork that locals have donated over the last 50 years.  I learned how to filet fish there and I still cut fish the same way I learned almost 30 years ago.

What do you love most about Italy?

I have spent so much time in Italy.  I am actually going back in a few weeks to shoot a show in Sardinia.  What I love most about Italy is the same thing I like about Chengdu China or some cities I have visited in Oaxaca Mexico.  All three environments have the same thing in common.  Every single person who lives in that region of the world understands how to have a relationship with their environment and the food around them.  They eat seasonally and they eat smartly.  Food is a part of their lives the way that it isn't in other parts of the world and I am jealous of that.  I am jealous that there is a social construct in the Italian DNA that allows for shopping, cooking and sharing food the way that is uniquely Italian.  They build in the time for it.  I think it is brilliant the way food allows Italians to socialize.

What is your favorite Italian restaurant in NYC?

There are so many!  The two places that I have been to most often in the last year are both Michael White restaurants.  One is Osteria Morini and the other is Marea.   Michael is doing some thrilling cooking right now.  I was recently at Del Posto and was absolutely blown away by the meal.  Those three are probably my favorite right now.

What do you always have in your fridge?

I am a condiment freak.  I have about 100 different types of vinegars, mustards, chili sauces and salt and things like that.  I am a real sucker for the plain thick Greek Yogurt.  We are a big cheese family and always have 4 or 5 different cheeses in the house.  I am a nice Jewish boy from NYC so I always have to have my smoked fish and pickled herring and all the other little goodies I love.

Does your 6 year old son like to eat the way you do?

He will eat anything that his mom and dad eat, which is great.  He is a very food forward child.  I also love his cereal collection.  There are times I get a 2am Captain Crunch attack.

Did you cringe before you ate the cow spleen sandwich in Sicily?

Not at all.  That is probably the signature dish of Palermo.  Everyone has a spleen sandwich at some point during the week.  Locals pull in with their vespa and run into these joints and grab their spleen sandwich.  It is Italian fast food.  I have to say it was good but not great (laughs).

Is there a destination you would love to visit that you haven't yet?

Too many.  I have been to China ten different times and I have touched half the country.  I have been to Russia a chock full of times and haven't touched half of that country.  I am dying to get part of the Stan's, such as Kazakhstan and Uzbekistan to see how life is unfolding in that part of the world.  I also really want to get to the Dalmatian Coast and Antarctica.

What do you like to do on your time off in Minnesota?

What time off???

Do you ever cook for your family?

My wife is a great cook and we divide up the time cooking.  We make our son help.  It is a wonderful experience cooking with my family.

One thing not too many people know about you that you would like to share?

Wow!  So much has been said.  I am an avid outdoorsman.  I love to hunt and fish.  I am also a total and complete sports geek.  I go to all the games when I can.

Have you ever gotten sick after taping a show?

No never.  Nobody believes the answer to this question.  Trust me, if I had gotten sick after something I have eaten I can assure you the cameras would have been rolling.

What is your favorite dessert?

My wife makes a homemade lemon curd that I literally will just dunk cookies into and the whole tub of it.  I also love pie.  Pecan and pumpkin are my favorite.  I also just LOVE coffee Ice cream.

Who would be your three fantasy dinner guests?

Teddy Roosevelt, Boss Tweed and Wyatt Earp.  I think Teddy was one of the Americans who has lead one of the most full lives.  He lived at a time that I am most interested in, which is the American Golden Age.  Boss was a corrupt  NYC politician from the 1870's and 80's.  I think that Boss was such an evil vile man but he was in control of the city of NY at a time when it was growing at its fastest.  Wyatt Earp was an American peace officer in various Western frontier towns.  I think he would have made a nice addition to the mix.

What is your most treasured possession?

The little picture of my wife and son that I travel with.

If you weren't making a career out traveling the globe on your bizarre food adventures, what do you think you would be doing?

I would either be teaching Art History at a college level or I would be a local politician.



---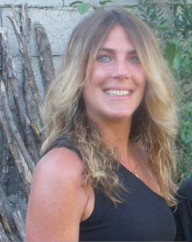 Loraine Pavich has had a diverse career in publishing with several successful magazines.