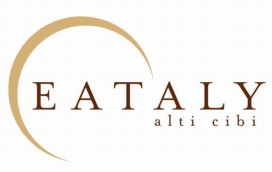 FOR IMMEDIATE RELEASE
2009 – New York, New York –
Eataly, the largest artisanal Italian food and wine marketplace in the world, is coming to New York. Two years after Oscar Farinetti opened his groundbreaking food and wine market in Turin, Italy, he is teaming up with Mario Batali, Joe Bastianich, and Lidia Matticchio Bastianich of Batali-Bastianich (B&B) Hospitality Group to transform a 42,500 square foot space in the Flatiron District into New York City's premier culinary mecca.
The marketplace located at 200 Fifth Avenue (the former Toy Building) will be the city's ultimate destination for food lovers to shop and taste and savor – an extravaganza that will include a premier retail center for Italian delicacies and wine, a culinary educational center, and a diverse slate of boutique eateries. This gourmand's delight will feature cured meats and cheeses, fruits and vegetables, fresh meats, fresh fish, handmade pasta, desserts and baked goods and coffees.
Eataly — at its essence – embodies the philosophy and commitment of artisanal products that represent the finest quality, sustainability, affordability, and responsibility – all of these are cornerstones of the Batali-Bastianich brand.
Each retail area will be paired with its own dedicated restaurant, including a wood-fired pizza and pasta bar, a cheese and salami counter, a beef restaurant, a vegetable restaurant, a crudo and seafood bar, and a classic Italian bar serving gelato, espresso, and wine. There will be a separate wine shop, bakery and patisserie. On the roof will be a 4,500 square foot open-air rooftop beer garden serving pizza and sausages.
Education will also be a defining focus of Eataly. There will be events year-round with food and wine courses, demonstrations and lectures from renowned chefs and food and wine producers from the best farms in the world.
Eataly is scheduled to open in summer 2010.
For further information visit: EATALY
Contact: Riva Horwitz
rhorwitz@bandbhg.com
About B&B Hospitality Group
Mario Batali, Joe Bastianich and Lidia Matticchio Bastianich are the distinctive forces behind an eclectic group of critically acclaimed, unanimously adored restaurants. Their collection includes: Babbo Ristorante & Enoteca, Bar Jamón, Casa Mono, Del Posto, Esca, Felidia, Becco, Lupa Osteria Romana, Otto Enoteca & Pizzeria and Tarry Lodge in New York; B&B Ristorante, Carnevino, and Enoteca San Marco in Las Vegas; and Pizzeria Mozza and Osteria Mozza in Los Angeles. While each location offers its own culinary identity, all have the signature combination of thoughtful and memorable food, intelligent wine lists, and an emphasis on living life to its absolute fullest.
About Oscar Farinetti
Oscar Farinetti is the founder and creator of Eataly. Mr. Farinetti got his start at UniEuro in 1978, a small appliance and food retail store. He focused on electronics and transformed UniEuro into one of the largest electronics retailers in Italy, opening 150 stores from 1978 to 2003. In 2003, he sold UniEuro and dedicated himself full time to Eataly. In January 2007, he opened a 30,000 square-foot store in Turin, Italy, that joins elements of the lively European open market and a learning center. Mr. Farinetti's aim is to make high-quality Italian foods available to everyone, at fair prices and in an environment where people can shop, taste and learn.
Eataly and Slow Food
One of the aims of Slow Food, the internationally recognized non-profit organization, includes the defense of food biodiversity and taste education. Slow Food is the strategic consultant for Eataly. Slow Food's commitment to Eataly was born out of its desire that Eataly pave the way for similar initiatives, enhancing the work of those who make quality food and guarantee products which are good, clean and fair, and sold at reasonable prices to consumers who want to eat better on a daily basis.
Eataly was represented in the retail transaction by Ronald Kremnitzer, of Pryor Cashman, LLP and David LaPierre, Paul Amrich, and Mike Kadosh of CBRE. 200 Fifth Avenue is owned by David Levinson and Robert Lapidus of L&L Holdings.