With a busy successful culinary empire and loving family, Joe's plate is full…and he is happy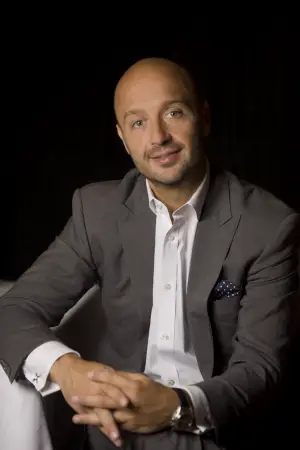 Joe Bastianich opened his first restaurant, Becco, with his mother, Lidia, in 1993. Soon after, he partnered with Mario Batali, and together they have established some of New York's most-celebrated restaurants, including Babbo Ristorante e Enoteca, Lupa Osteria Romana, Esca, Casa Mono, Bar Jamόn, Otto Enoteca Pizzeria and Del Posto. Expanding their horizons beyond Manhattan, Bastianich and Batali opened Enoteca San Marco, B&B Ristorante and Carnevino in Las Vegas and Pizzeria Mozza and Osteria Mozza in Los Angeles. The duo also purchased a vineyard in Italy with the goal of creating the world's finest wines and olive oils.
Their latest venture, a revolutionary retail food concept called Eataly, opened July 2010 in New York. Eataly is a resto-market featuring the best of Italy – from Italian products to Italian dining. (See: Eataly Press Release)
Bastianich is an accomplished author whose passion for the culinary arts has been recognized with professional awards from Bon Appétit magazine and the James Beard Foundation.
Gordon Ramsay has also chosen Joe and four-star chef Graham Elliot Bowles to join him as judges on MASTERCHEF  which premiered in July 2010 on FOX.
Be sure to visit his website at: www.bastianich.com
---
An Interview with Famed Food & Wine Entrepreneur Joe Bastianich, by Loraine Pavich

You started your career in Wall Street. What made you switch into the restaurant business?

My family has been in the restaurant  biz for generations so I always knew that I would be back. Restaurants are not a job, it's a way of life.

Your favorite meal your mother Lidia cooked for you as a child growing up?

A Lidia classic dish might be risotto with crabs, or fuzzi with pheasant squazet.

What is a typical day in your life?

Wake up breakfast with kids.  They go to school I go run, then hang with my wife Deanna before heading to the city to work. I go to Eataly see what's happening work the lunch rush, head to my office, do some office work, then off to make the rounds of some restaurants during dinner service.  I would normally stop by Otto then Babbo , the final stop is Del Posto before heading home to bed.

What is your favorite sandwich?

American would be a classic BLT with extra mayo.  An Italian would be roasted veal breast with semolina bread dipped in pan drippings.

One pasta dish you can never get sick of?

I can never get enough of linguini with clam sauce or spaghetti carbonara.

Do you prefer red wine or white wine?

That is like asking do I prefer my male or female children, but since you asked I would say if you're going to drink wine every day then white is the way to go. It is suitable with more foods, has less tannins, and is usually served chilled which is a plus.

Do you and Mario Batali ever disagree on anything?

No we never disagree. Just like a marriage in a long-term partnership you pick your battles.

What do you like to do in your spare time other than the business you're in?

In my spare time I sing, play guitar, write songs, train for triathlons and try to appreciate how lucky I am.

What can we all look forward to with the opening of EATALY in NYC?

Eataly will change the way that New York thinks about shopping for food and eating in restaurants.

Which one your restaurants holds a special place in your heart?

Becco on NYC Theatre Districts Restaurant Row was my first restaurant almost 20 years ago, and it is going stronger than ever. You never forget your first!

You and your family have created a culinary empire do you want your children to follow in your footsteps?

I hope my children will do whatever will make them happy.  If that is serving pasta and making wine then so be it.

What advice can you give to aspiring restaurant owners?

Don't confuse passion and business.  A restaurant must make money or it will close sooner or later. No amount of art or passion can make up for lack of margin.

Any pointers you want to give the contestants of MASTERCHEFS?

The contestants who go far in Masterchef are able to combine technique skill and experience with passion. Thru there culinary creations they are able to show us who they are. It is  not just about great food, its standing out as a cook for America to see and by delivering a part of you on the plate!

Has your new health routine changed the way you approach food?

I am eating more simple pasta then ever. I think that combined with exercise it's the magic food.  My advice is eat and run like a caveman!

Where do you see yourself in 20 years?

I will be living in Italy learning how to cook pasta from old Italian women.
---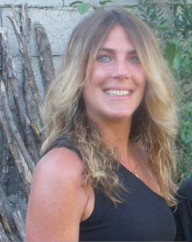 Loraine Pavich has had a diverse career in publishing with several successful magazines.