Professional eaters in a world of amateurs sharing their love of great restaurants and meals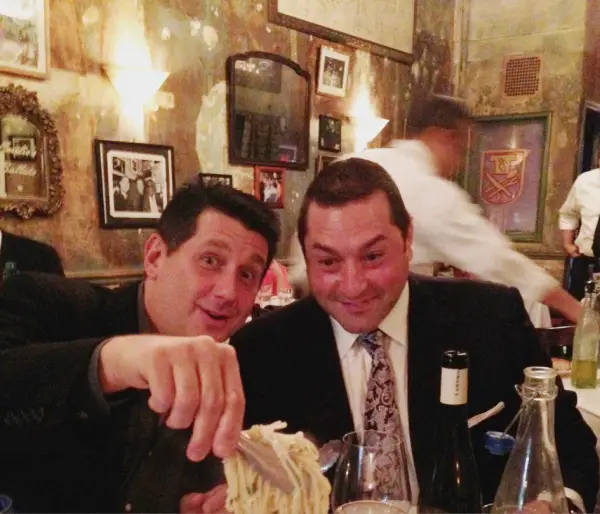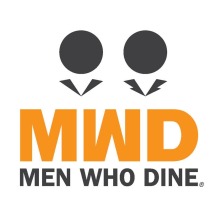 Alan Watts and Gennaro Pecchia are the Men Who Dine, and their mission is to bring you inside the best and most authentic restaurants, bars, lounges and all things food related in their own unique way!  They are not conventional restaurant critics, but rather, they are an underground foodie force — connecting with chefs, restaurants and events through social media, word of mouth and lots and lots of meals.
The world is now in the midst of a foodie revolution.  The Men Who Dine text and tweet mid-meal, snapping endless pictures of their food, sharing the sights, sounds, smells and tastes of what they are eating and where they are eating it.  Traditional dining experiences are simply passé.  The Men Who Dine are a product of this new food revolution and they have transformed it into a cult following.  Passion is the name of their game. They are professional eaters in a world of amateurs.  Today, their opinion is sought after by thousands.
So what do they do? They actively seek out the greatest in food and eat their way through restaurants and events around the country.  Each has a culinary background and are hooked up with and hooked into the best and brightest in food culture to inform their audience where the best eats are.  If a restaurant makes it on their list of "Where We Dine," it is certainly not to be missed!
Visit their website – www.menwhodine.com
Follow Men Who Dine on Facebook – www.facebook.com/MenWhoDine
Follow Men Who Dine on Twitter – www.twitter.com/MenWhoDine
An Interview with the Men Who Dine by Loraine Pavich


How did you two meet?

Alan – We met about three years ago at a Neapolitan Pizza event in New Jersey.  We were seated at the same table, started chatting and hit it off.  The rest is history!

Gennaro – Alan and I met at Amano Pizzeria in Ridgewood NJ.  It was food love at first bite since the Pizza was perfect cooked and I was thinking to myself, "wow, this guy(Alan) is just as food & Pizza crazy as I am!  We emailed the next day and we were out to dinner soon after.  After three years it is more of a Brotherhood than a Friendship.

 

How did Men Who Dine become a reality?

Alan – It was quite the spontaneous happening.  We were invited to the Four Seasons for lunch by owner Julian Niccoloni to check out their new chef and the truffle menu.  After several hours of eating and drinking, we decided that if there were ladies who lunch, we were the Men Who Dine!  We picked up a smart phone and bought the domain on the spot.  We then began to post photos of us going out, the food we were eating and the events we were attending and people started to follow us.  It quickly became somewhat of a social media buzz and ended up on TV, magazines and newspapers.  There was never a master plan or business model that we followed…we just have fun and people seem to enjoy what we are doing.

 

What are some your fondest food memories growing up in an Italian home?

Gennaro – As my Mamma would say, "whether things are good or bad in life…you must eat!"  So with that being said, I remember all the wonderful times we had around the table especially at my Grandparents home.  No matter what was going on we would drive out to Long Island every Sunday.  As soon as walked in all I smelled was fried meatballs, sauce cooking and giant kisses and hugs from my Nonna and Nonno.  We'd go to the old Italian bakery or forno with Dad early in the morning to bring fresh semolina loaves to add to the feast.  Everyone knows that every Italian must go with something as a gift to add to the meal!

 

What is your ideal Italian meal from appetizer-dessert and wine?

Alan – For me it is all about simplicity.  I would start with a platter of beautiful salumi, cheese, Sicilian Olive Oil and great bread. Moving on to perfectly cooked pasta such as a pasta pomodoro or bucatini all'amatriciana and to finish, my all time favorite, an affogato made with the best espresso.  This is my perfect meal.

 

How do you juggle your days and evenings as it requires being out often socially with long hours?

Alan – Life is all about balance.  I spend every morning making breakfast for my kids and getting them off to school.  Then its to the office where I spend the bulk of my time.  When the evening rolls around, Men Who Dine come out to play.  Living in Westchester, so I get in my car and drive into the city for several events per night.  It's a fairly intense schedule, but I love what I do and would not change it for anything!

Gennaro – I do have a day job besides eating to start, hopefully that will change in the near future since Men Who Dine is a full-time  job for us!  Luckily, I work in the City so at 5:01pm when the whistle blows I change into my Super Food Man suit.  Men Who Dine has added a passion into my life that could never be measured on a scale.  I'm fortunate to be able to work, eat & play on very little sleep.  Even when I rest I am thinking about our next event.  Some people count sheep, I count lamb chops!

 

Name me your favorite Italian restaurants anywhere.

Alan – That's a tough question.  For me, my favorite Italian restaurant is not simply one restaurant, rather, it's any restaurant that is creating dishes with passion and love.  Respecting the purity of great ingredients and cooking with integrity is what makes a restaurant great.  If a chef is passionate about every element of what goes into delivering that dish to the table, that honesty and attention are the very essence of what makes a restaurant great.

Gennaro – What a loaded question!  There are so many wonderful Italian restaurants all over the map now.  One thing I really love about my favorite Italian restaurants is when the front of the house is managed by Italians and the back of the house has a driven and passionate Italian or Chef at the helm.  I'm not sure why but the food just taste more original in those places.I will also say that there are some really great places with American Chefs doing a spectacular job with Italian skills as well!

 

If you guys could open your own restaurant what you name it?

Alan – Men Who Dine…what else?

Gennaro – Men Who Dine… I like that as a restaurant name!

 

What is the favorite part of your jobs?

Alan – Men Who Dine allows me to experience some of the most incredible food from the hardest working people on Earth and share those experiences with the public.  It is an honor to have the access we have and the relationships we have built with hundreds of chefs across the country.  And at the end of the day, this job doesn't suck!

 

Where in Italy does your family come from and when did they arrive in America?

Gennaro – My Parents are both Italian born.  My Mother is from Parlemo Sicily a small town called Campofiorito and my Father is from Basilicata, a town called Potenza.  They arrived in 1965 and settled in East Harlem, New York City.

 

Where do you want to take MEN WHO DINE over the next few years?

Alan – I am excited to continue building our brand and introducing the public to great dining experiences.  We are now working on a cookbook that will be featuring our favorite recipes from our favorite chefs in NYC.  I am just blessed to be able to do what I'm doing and hope it will continue for years to come.

Gennaro – I'd like to see Men Who Dine continue to support the food industry in all aspects of the business.  From giving the public a great inside view of what is going on when it comes to restaurants but to spotlight the special people who make the food world go around.  It is extremely wonderful to be able to work with and bring light to the special people who bring health and nourishment to others.  Also to keep the Fun in Food!  The new world is so serious that sometimes it is great to just share a beautiful dish and be grateful to do so.

 

What is a food you absolutely cannot eat?

Alan – I have yet to find a food that I will not eat.  Although, I am not a big fan of eating bugs if that's considered a food!

Gennaro – I will honestly say anything type of fish that is not 100% fresh will not and cannot go into my body.  Another thing I can't and probably have eaten before is testicles.  As a matter of fact I ate them this year at Meatopia X at the NYC Wine & Food Festival!  Truffle oil sucks but I know my body is full of it.

 

What is an Italian meal you guys cook at your homes that you have mastered?

Alan – I am always looking for inspiration which generally comes from the farmers markets.  When I see beautiful, fresh and seasonal ingredients I become focused on simple preparations which generally is Italian in style.  I am inspired to cook with pristine fresh seafood, pasta dishes with market vegetables and simply grilled proteins.  I love cooking with my twin boys who are 10, and we have a dish that we created and named "Three Boy's Pasta".  It's a really awesome dish of grilled chicken sautéed with red onion, garlic, olives, chic peas and whatever fresh vegetables we have tossed with Strozzapreti pasta and really good olive oil.

Gennaro – The only Italian dishes I have truly mastered are the ones I've eaten at home when my Mamma cooks!  On Sundays I do cook with my Mother and try to keep up with her since I can only ask questions since there isn't one recipe that is written down.  We usually get through half the dishes together then she kicks me out of the kitchen since she says I'm not organized or clean enough for her taste.  Now that's Italian!

 
---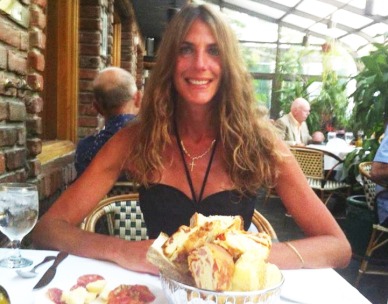 Loraine Pavich has had a diverse career in publishing with several successful magazines.
Learn more about Loraine here.