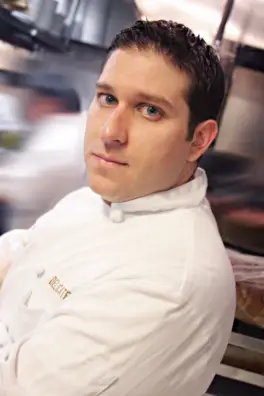 JULY 2010 – As early as childhood, Chef Michael Ferraro's interest in food took flight revolving around his family's kitchen table. With Southern Italian parents, Michael was exposed to a style of cooking that fused fine Mediterranean flavors with the quality and freshness of Southern Italy's ingredients. This authentic Italian home cooking experience paved the road for Michael as he went on to graduate from the Culinary Institute of America at the young age of 20. His driven zeal for the kitchen sparked many prominent opportunities fresh out of the CIA.
Ferraro is currently in the kitchen at the popular Soho restaurant, Delicatessen where he has made significant changes to the menu. Ferraro's vast menu of whimsical comfort food is one you'll want to select from again and again including such offerings as Pat La Freida's Short Rib Sliders, Prince Edward Island Mussels, and classic Pan Roasted Chicken.
Ferraro is also the Executive Chef of macbar, a new restaurant fully dedicated to gourmet macaroni & cheese. Located behind big sister Delicatessen, Chef Ferraro has created a menu full of unique flavors including such standouts asMayan Chipotle with chicken diablo, chihuahua cheese and green onions; Mac Lobsta' with tender chunks of fresh lobster, cognac, tarragon and marscapone; Mac Quack with duck confit, fontina, caramelized onion and fine herbs; and Carbonara with pancetta, green peas and parmigiano cheese.
---
An Interview with Executive Chef Michael Ferraro, by Loraine Pavich

Where in Italy do your roots hail from?

My father is from Gioiosa Ionica, Reggio Di Calabria and my mother was from Villa San Giovanni Reggio, Di Calabria.  Not too far from each other.




How has your Italian family background influenced you to become a chef and restaurant owner?

When my father came here at the age of 14, he began working in a friend of the family's restaurant.  By the age of 19, his mother was able to come over to the US to help him open a restaurant of his own.  So after growing up in a family where home-made food was a big part of life, it felt natural for me to end up cooking.




What is your favorite Italian home cooked meal and who makes it for you?

Well that's a hard one because I have many, but my father's stuffed baby eggplants rank high up at the top.




Who taught you how to make your famous meatballs served at Delicatessen?

My father is responsible for the meatball recipe at Delicatessen.  He actually came in and trained my guys how to make them just as he does.  He's been using the same recipe for over 40 years.




What would be your version of an Italian Style hot dog with the works?

It would be made with sweet Italian sausage on Tuscan style bread, with roasted hot cherry pepper, roasted sweet onions, fresh mozzarella di bufala and a drizzle of vin cotto.




If Delicatessen had a sandwich called The Ferraro what would it be?

The Ferraro sandwich actually existed at one time.  My mother had a "real" Delicatessen when I was growing up and my brother created The Ferraro, which was prosciutto, salami, roasted peppers, pickled eggplant fresh mozzarella on Italian bread with oil and vinegar.  So I will stick with that.




What is the most underrated Italian ingredient?

Bottarga, it's the cured roe of the mullet fish.  It has a beautiful bright orange color and unique flavor; just a little grated on a dish goes a long way.




What is your favorite Italian restaurant in NYC?

Lupa, it's been consistently delicious for years and the specials always keep the menu new and fresh.




Do you prefer NY style cheesecake or Italian ricotta cheesecake?

I have to be honest, I do prefer NY style.




Are you a Vespa guy or a Ferrari guy?

Definitely Ferrari




If there was one place in Italy you can own your restaurant where would it be and what would you name it?

Either Lake Como because it's so unbelievably beautiful or Sicily because it's abundance of pristine seafood. I would name it Casa di Ferraro.
---
Be sure to visit Michael's restaurants DELICATESSEN AND MACBAR
---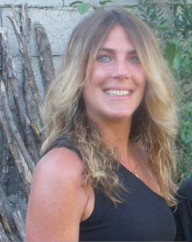 Loraine Pavich has had a diverse career in publishing with several successful magazines.
---