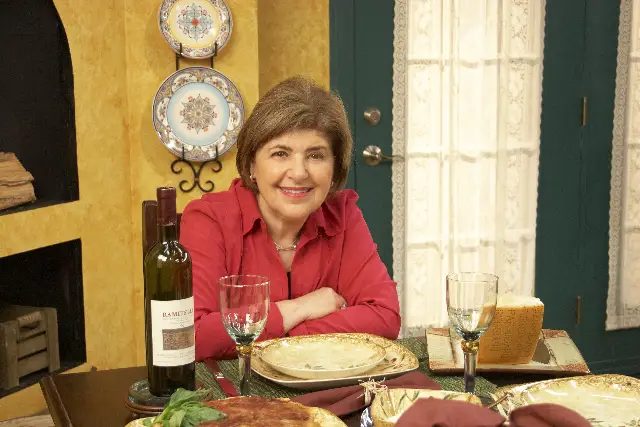 Mary Ann Esposito is the creator and host of the PBS series, Ciao Italia, seen nationally and internationally. This year the series celebrates its 21st year, making it the longest running cooking series on television.
Mary Ann holds a masters degree in food  history from the University of New Hampshire; her thesis work was on Renaissance Italian foods. She also holds an honorary doctorate  degree in Humane Letters from St Anselm College in Manchester, NH.
Mary Ann studied in regional  cooking in schools throughout Italy and got her start in Perugia, Italy. She has also taught, and continues to teach classes in cooking schools throughout Italy each year.
Mary Ann is the author of 11 cookbooks including the best selling CiaoItalia Her bread book, What You Knead , won the International Cookbook Revue award for best in its category, and was also named one of Food and Wine's top cookbooks for 1997.  Her book, Mangia Pasta was nominated as one of the three best cookbooks tied to a television series by the International Cookbook Revue.
Mary Ann has appeared as a guest chef on the Today show, Regis and Kathy Lee, Discovery, FoodNetwork, QVC, Fox, Pax, Martha Stewart Radio and a host of others. She has been featured in print in newspapers and magazines including People Magazine, TV Guide, Family Circle, Yankee, and USA Today. She has been honored by numerous organizations for her work in preserving traditional Italian foods and culture. The Sons of Italy in America presented her with their Lifetime Achievement Award in the Culinary and Cultural Arts of Italy and The Italian Trade Commission inducted her into the Hall of Fame for her promotion of regional Italian foods.
---
For more information visit www.ciaoitalia.com
For media information contact:
---
An Interview with Mary Ann Esposito, by Loraine Pavich

What do you most appreciate about your Italian culture?

The close ties of family; family is everything in Italy.

Who was your biggest influence that inspired you to become a chef and cookbook author?

My grandmothers, both chefs and my mother a dietician.

What was your fondest memory growing up in the kitchen?

Smelling Sunday sauce cooking for the weekly BIG dinner.

What is a typical day in your life like?

Exercise, make breakfast, write and produce shows for our series, meetings, cook, read, sleep.

What cookbook is on your nightstand?

The Art of Eating Well by Pellegrino Artusi.

What cooking shows do you watch?

None, not even mine!

Your biggest guilty pleasure from the food world?

A hot fudge sundae.

Do you prefer scrambled eggs or Sunnyside up?

Sunnyside up.

The best breakfast you had in Italy?

Italians don't eat breakfast, as we know it.  I love standing at the bar having a cornetto and cappuccino with the Italians.

What is the most memorable meal you have ever eaten?

My mother's upside down stuffed peppers.

What are your five must haves in the pantry?

Extra virgin olive oil, pasta, canned plum tomatoes, dried beans, anchovies.

Have you ever thought about opening a restaurant?

No, television consumes me.

Do you have any plans to write more cookbooks?

Yes, I have a family classics cookbook coming out in the fall of 2011 with over 200 recipes and gorgeous photos.

You  have achieved such great success in your career, what advice can you give to the future chefs of America?

Learn from failure and never let mediocre be your creed.  Because of the family influence in my career, I have set up the Mary Ann Esposito Foundation to help future chefs become successful and you can learn more about that by going to our site www.ciaoitalia.com.

What was the last meal you prepared?

Tomato and wine risotto with hand squeezed tomatoes from my husband Guy's garden – followed by homemade Italian sausage with balsamic glazed sweet red peppers and baked eggplant moons with goat cheese.
---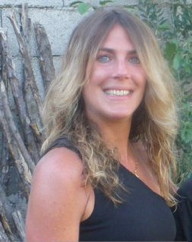 Loraine Pavich has had a diverse career in publishing with several successful magazines.