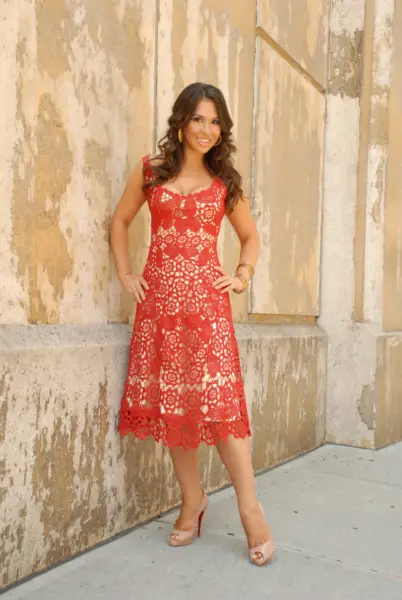 23 year-old Rossella Rago is the host of the all new online cooking show and food webisode series, Cooking with Nonna . Rossella was born into a family of culinary aficionado's and food lovers. "Growing up, something was always on the stove," says Rossella, the first generation Italian-American from Bensonhurst, Brooklyn. Her deeply rooted heritage finds its source in Mola di Bari, a small fishing village more commonly referred to simply as Mola where her parents grew up. Mola has approximately 26,000 inhabitants located south of Bari in the Southern Italian region of Apulia (Puglia).
"Cooking was never just about cooking, it was about family, community, and spending quality time with each other," says Rossella. In fact, Rossella spent most of her childhood in the kitchen with her maternal Grandmother Romana learning the long legacy of recipes passed down through the generations for centuries. Her grandmother, who she calls Nonna, also taught her about the different regional food styles of Italy.
Television and Radio Artists since the age of ten. She has appeared in many films and television series, including the film Confessions of a Shopaholic, 13 Going On 30 and The Sopranos. Additionally, Rossella has participated in several Italian-American pageants, winning the titles of Miss Mola USA in 2003 and Miss Idea USA in 2005.
Both the passion for her parent's native language and her experiences in high school propelled her to choose Italian as her concentration in college.  She graduated from St. John's University in the spring of 2009 with a Bachelors of Arts degree in Italian Literature.  She is fluent in both Italian, and her native dialect of Mola di Bari.
In addition to inspiring grandmothers from around the world to pass down their sacred recipes, entertaining audiences with her new show, and popularizing authentic Italian cuisine, with Cooking with Nonna, Rossella plans to raise awareness and promote healthy eating habits for young women everywhere. Her goal is to be a positive role model and inspire young women worldwide.

Be sure to visit the website of the all new online cooking show and food websiode series, Cooking with Nonna with host Rossella Rago at www.CookingWithNonna.com
---
An Interview with Rossella Rago, by Loraine Pavich

How did you come up with the idea for Cooking with Nonna?

The Idea for Cooking With Nonna was actually born in my Nonna's basement in Brooklyn, NY.  I was in my junior year of College, living with my Nonna and cooking with her almost every day.  After a big holiday meal, my dad and I were discussing my future career path.  I was an Italian Literature major, minoring in Education with the intention of becoming an Italian teacher some day, but my heart wasn't quite in it.  As I had been ivolved in enertaiment since I was a child, I mentioned to my dad that hosting a cooking show was probably the greatest job anyone could ever have.  We got to talking about how great it would be to do a show that featured Italian grandmothers recipes since they're usually the greatest cooks in the family.  After a bit of research we discovered that there had never been such a show before, so we decided to make it ourselves.  We named it Cooking With Nonna, and a week later my dad purchased the internet domain.

Where do you get your inspiration for your recipes?

The inspiration for my recipes come from my Nonna as well as all the other grandmothers that have been guests on the show.  We purposely choose recipes that have a lot of tradition to the ladies and are quintessential to the small villages they come from.  I also get inspired to take their recipes and adapt them to my everyday life, or swap some things out for more healthful ingredients. Some people find cooking intimidating, but what you have to remember is that there are really no rules. You can do whatever works for you.  That's definitely one of the most important things my own Nonna taught me.  You can always use what you have and what's in season to make something delicious!

What are some of your favorite recipes you have made on your show?

I think my favorite recipes we've filmed have actually been the dishes from the North of Italy, like Lombardy and Piedmont.  I'm from the region of Puglia, which is in the deep south of Italy so I wasn't exposed to very much northern Italian cuisine growing up.  It was fascinating to see the difference in the way we cook, such as usage of fats and proteins.  The North uses butter as opposed to olive oil and they consume more meat, but it's just an example of how Italians always use what's in season for them and available in the area.  The Ossobuco and Risotto Milanese Nonna Carmen made was out of this world! The food on our show is completely real and edible and 100% not styled.  My entire crew and I dig in as soon as we yell cut.  Especially Eva, my makeup artist from Korea, to her, everything we've made has been new and exotic.

Did you ever attend any cooking school?

I love to joke that I've attended the prestigious "Nonna's Brooklyn Basement Culinary Academy."  I've never had any formal culinary training as of yet.  I've been lucky enough to learn at the aprons of my Nonna and her three sisters, who have taught me everything they know about food… which is a lot.  However, I'm not opposed to enrolling in a culinary program in the future.  I consider myself an eternal student, and I'm willing to learn from anyone humble enough to teach me.

What is one cooking disaster experience you have had?

Only one? Ha! Trust me, there have been many! But if I had to pick one that stands out in my mind it has to be the first time I tried to translate an Italian recipe into English.  That metric system is so confusing!! The recipe was a simple sponge cake that would later be filled with my amazing Nutella Mascarpone mousse. Well, I calculated almost everything wrong, and when I checked on the cake after it was baking for about 20 minutes I saw that it was erupting just like Mount Vesuvius! It was a disaster! I had to throw away the brand new pan I bought, clean up a messy oven for an hour, and start all over.

Is there anything you don't like to cook?

I'm not crazy about making dough because there isn't an exact a recipe for it.  It's a few ingredients, but you never know exactly how much water to add because it depends on different factors, like the amount of humidity in the air that day, the type of flour you use, etc..  Sometimes it comes out great, and sometimes when it doesn't you can hear a symphony of Italian swear words coming out of my mouth.  I take it personally when my dough doesn't cooperate.

One thing you love to cook that is not Italian?

I love to make all kinds of desserts, including some non-Italian varieties like Greek Baklava.  One of my Nonna's best friends is a Greek lady who has lived across the street from her for as long as I can remember.  She has the best Baklava recipe ever!

What is your favorite cocktail to drink?

Definitely the Bellini.  It's a blend of Prosecco and frozen peach nectar.  They're so sweet and refreshing and always make me feel like I'm at one of my favorite bars in Italy.  Cipriani in New York makes them the best of course.

What is your favorite Italian junk food?

My favorite Italian junk food since I was a little girl are Kinder Delice Brioche snack cakes.  They're these cream filled chocolate sponge cakes covered in chocolate. Perhaps they're the equivalent of Ring Dings or Devil Dogs in America, but they're made with much higher quality ingredients.  Luckily, where I live in Brooklyn the Italian specialty stores import them once in a while.  But I always smuggle some back to America in my suitcase whenever I come home from Italy. Shhhh!

Your favorite place in Italy to visit?

My favorite place in Italy to visit is a small town near my family's hometown called Polignano a Mare.  It's this beautiful picturesque little village with cliffs that overlook the water and restaurants built inside grottos.  American tourists haven't quite discovered it yet so it's really peaceful.  Whenever I'm in Italy my trip isn't complete until I've visited Polignano.

What are some Italian traditions your parents have taught you that you will carry on to your family?

There are probably too many traditions in my family to keep them all, but I think the most important one I absolutely will carry on is always making time to eat dinner together.  When I was growing up, my father worked late most nights, but we would always wait for him to get home so we could have dinner together as a family. Everyone had to be seated at the dinner table at dinner time, even if we didn't eat.  I think that's a really important part of Italian culture. The evening meal is one of the few times in our hectic modern culture where families can be together to talk and eat.  I don't think I'd have it any other way.

What is your idea of a perfect date?

The perfect date to me is spending the day at the Metropolitan Museum of Art or seeing a great foreign film followed by a great dinner.  I guess I'm a little bit of an artsy food nerd.

You are 23 years old and very young to have such a wonderful and amazing career already.  What your goals for the future?

I see so many things in the future for myself and Cooking With Nonna.  It's a very exciting time at the moment, because I feel like anything can happen.  I'd love to do a book and, in time, maybe even a line of products.  Time will tell!  The one goal that I'm certain I'll achieve is being able to empower the many wonderful women that work with me.  Most of the Nonna's on the show have never been in front of a camera before.  They all have a passion for food and some have confided in me that they've always dreamed of being on a cooking show.  It's really exciting to watch their dreams come true.

Every woman I've ever had on the show has so much more to offer than recipes. Whenever we film the biography segments, I'm completely floored every time they start telling me their personal stories, most of which are so extraordinary that I've been moved to tears.  I'm so glad I've been able to give older women a platform in the world to showcase their extraordinary skills.  I remember a scene in the Fellini film 8 1/2, when the showgirl gets thrown out of Guido's harem for being 26 years old, and I thought it was such a powerful metaphor for how our society views women.  I think as women get older they can be made to feel as if they don't have as much to offer, but that couldn't be further from the truth.  Women are the nurturers and care givers of the universe.

People write to me every day thanking me for giving their Nonnas or their mother's back to them because one of the women on the show reminds them of someone they've lost.  Through Cooking With Nonna, I've made it my mission to prove that women have no expiration date.  And I won't give up until everyone is a believer!

One thing that would surprise us about you that no one knows?

That I secretly want to be a stand up comedian.  I've always loved to make people laugh and whenever someone laughs at my jokes or tells me I'm funny it means so much more to me than if someone compliments me on physical beauty.  I think being funny has to do with a certain way you see the world.  I try to throw my humor into Cooking With Nonna as much as I can, but sometimes it's a little too risqué for the Nonna's.  I mean, how many jokes can you make about "Extra VIRGIN Olive Oil"?

When are you the happiest?

When I see people eating and enjoying food that I've made.  I was born with the need to feed.
---
We wish to thank Rossella for her time, and please be sure to watch Nonna TV by visiting the Cooking with Nonna website.

Italia Living also wishes to congratulate Rossella, her Nonna and mother Angela for winning the premier episode of '24 Hour Restaurant Battle' on Food Network!
---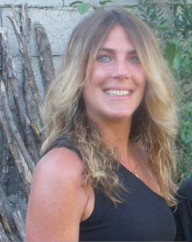 Loraine Pavich has had a diverse career in publishing with several successful magazines.