Chef of Los Angeles hotspot Culina puts modern touch on Italian cuisine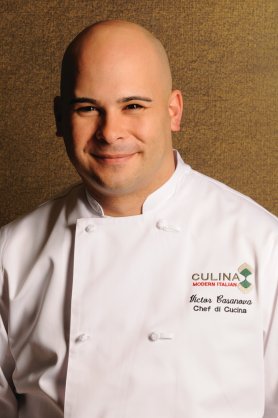 DECEMBER 2011 – Victor Casanova takes the simple things seriously. From selecting the highest-quality ingredients to letting subtle preparations unlock their flavor, a deep respect for every facet of the culinary process is his guiding muse.  His innovative menus build on the best of classic Italian cuisine with a light modern touch, embracing a slow-food philosophy that extols small producers as it seeks to celebrate the simple foods of the past through unpretentious reinterpretations.
A graduate in Culinary Arts and Restaurant Management from the Institute of Culinary Education in New York City, Casanova joins Culina, Modern Italian from his most recent position as chef de cuisine of Il Terrazzo.  As head of the opening team for this fine-dining Italian restaurant located in Scottsdale's AAA five-diamond Phoenician Resort, he quickly earned the new hot-spot rave reviews.
Over the years, Casanova has enjoyed a career rich in diversity, with positions at well-known and highly respected establishments across the country.  He was sous chef at New York's Ocean Grill and Las Vegas' Neros at Caesars Palace and spent four years at Buca Giovanni in San Francisco, where he designed a boutique all-Italian wine list while executing a daily farmers' market menu.  He commenced his Italian training at New York's renowned Beppe, then advanced it further under Chef Scott Conant at the chic, Northern Italy-influenced Alto before relocating to San Francisco.  Fresh out of culinary school, Casanova honed his skills as a line cook at such celebrated establishments as the French-American DB Bistro Moderne and the American Gramercy Tavern.
Born and raised in the Bronx, Casanova started cooking at an early age simply because he needed a job.  Instantaneously, he was captured by the energy, aromas and creativity of the kitchen.  He attributes his ongoing love of Italian food to Chef Casare Casella, whose guidance at Beppe restaurant in New York deeply influenced his approach.  From Casella he learned the craft of the authentic Italian kitchen, an equally authentic passion for cooking and the flavorful secrets of Tuscan cuisine.  But first and foremost, he learned that Italian fare is only as good as the ingredients that go into it – in essence, a sensual cuisine of seasonality.  This emphasis on freshness, quality, simplicity and passion infuses the philosophy he brings to Culina, Modern Italian.
For more visit the website of Culina, Modern Italian
Tune in to the Food Network channel on December 25th, 2011 at 9 PM EST/PST to see Chef Vic Casanova compete in Kitchen Stadium on "Iron Chef America!"
---
An Interview with Chef Victor Casanova, by Loraine Pavich

Growing up in the Bronx where did you find your culinary inspiration?

I found my culinary inspiration in the aromas I sensed while walking down the street. Aroma serves as nostalgia which serves as a motivating force for me. I also found it in the happiness I felt when my mom cooked great food for me. 

 

What do you most miss about NYC?

The aroma, the sound…the second I step off the airplane there's a smell in the air that is unlike any other place I've been. Considering I was born and raised there it has a very calming effect on me.

It was great there because you would work until midnight or later there and when you were done you would get to eat at all of these cool places. The options there are just very different. It's not the same on the West Coast.

 

What was the hardest meal you had to prepare while in cooking school and why?

At the very end of culinary school we had to create this "mystery basket" meal. You go through two (plus) years of training where everything's regimented and then you're still nowhere near being a "chef" and you have to come up with this dish. It's an interesting parallel to what I experienced on "Iron Chef America," actually. There are all of these amazing chefs waiting to taste your food and there's this immense pressure. You either pass or you fail – (smirks) I killed it.

I cooked four courses and the thing I remember most was the simplicity of the dish: roasted chicken, sautéed spinach with toasted pine nuts and currant, served with roasted potatoes

I was most concerned with having the skin crispy and the meat roasted perfectly. I really buy into the slow food mentality.

 

What is the one thing that Cesare Casella taught you that you still follow in the kitchen today?

Less is more.

 

If you were to open an Italian Food Truck what would you call it?

Gusto

 

Some people think you can only get great authentic Italian food in either NYC or Italy. How does the produce in Scottsdale measure up to these cities? 

We received about 75% of our produce from the Santa Monica Farmers' Market. Because in Scottsdale they can only grow some of the produce in greenhouses, your options are very limited. Most of what we used was California grown.

 

What do you most love to cook?

Fish. All types of seafood. It requires a high level of precision and understanding and there's something intriguing about that. Subtle nuances show through more so than with other foods.

 

What is one food you should never have white wine with?

I don't really believe in that rule. It's as if you're stereotyping wine and putting it all into one category. Basically you're saying that all red wine has the same characteristics and the same goes for white wine. You have to approach each wine and each dish on an individual basis.

 

Is there a region in Italy where you would love to learn their culinary cuisine?

I am most intrigued by Sardinia. There's this mystique behind the food and culture, which is very different than any other region in Italy – it has something to do with the footprints and traditions that have been left behind.

They love pork. You'd assume it would be seafood since it's one of the largest islands in the Mediterranean Sea, but because of historical events they've been forced to harvest food inland.

There also is this South African influence, which makes for an intriguing combination, which is a world away from the "typical" tomato, mozzarella and basil combination.

 

What is the one condiment you can't live without?

Extra virgin olive oil.

 

If you had only 10 minutes to prepare a main course what would it be?

Simply grilled locally-caught fish, drizzled with extra virgin olive oil and a squeeze of lemon juice.

 

What do you love most about your profession?

That there's always more to learn. It's constantly evolving and changing. I have a whole lifetime ahead of me and I believe because of my profession, I will have these beautiful times of growth and understanding. Food is culture and culture is food, so the better I can understand it, the better I can deliver it and be an ambassador for it.

Make no mistake, though, I'm influenced by all types of cuisine. The more I understand, the more cultured I can be and the better person I can become.

 
---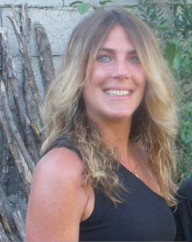 Loraine Pavich has had a diverse career in publishing with several successful magazines.
Learn more about Loraine here.