Sharing his love of Italian food, culture and life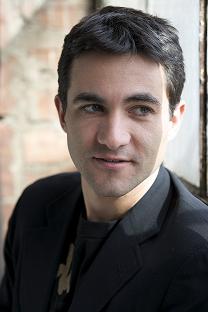 AUGUST 2012 – Riccardo Costa was born in Bologna, one of Italy's food capitals.
At a young age, Riccardo met Steven Spielberg at the Venice Film Festival and asked his advice on a good school of cinema to attend in the US. Riccardo never forgot what the famous director told him and at the age of twenty he moved to New York to attend the Tisch School of the Arts at NYU. In Italy and New York he worked as an assistant to director Spike Lee, among others.
He has written and co-written 10 feature screenplays, including Queen of Harlem, and plays for Off-Broadway. As a director he has received awards and recognition in more than 60 festivals worldwide and on CBS. Presently, Riccardo is the President of Blitz Entertainment, a production company in Italy and NYC.
Among Riccardo's diversified background, he is also an accomplished chef. Learning to cook from his grandmother, a famous Bolognese socialite from the '50s, he assimilated all the century-old family culinary secrets. He has written and self-published a cookbook of some of these traditional Italian recipes, which he shares with friends, acquaintances, celebrities, intellectuals, politicians, and artists who come to his apartment to eat exceptional food, discuss ideas, and network. Vecchia Cucina: Antique original family recipes from my grandma's secret kitchen
In 2010, he was among the finalists of the Ultimate Recipe Showdown, on Food Network.
He is an instructor of Italian language and culture classes at Collina Italiana Italian Language and Cultural Center in NYC.
Riccardo is also an acclaimed food critic and is currently working on a series of online cooking shows called Date Night.
For more info visit his website:  http://riccardocosta.com
---
An Exclusive Interview with Riccardo Costa

In what way did your family growing up influence your style of cooking?

I owe all to my family and my grandma in particular. She was a socialite long before I was born and mastered the craft of homecooking like no one I ever tasted. She could just create a masterpiece of taste from two simple ingredients and in a short amount of time, everything else was happening in her brain. My family kept that tradition and passed it along to me and my cousins.

Are there any celebrity chefs you admire or look up to for inspiration?

The chefs I admire are not celebrities, because as a politician is effective and professional in making laws and caring about the well being of his constituents, so are chefs who are masters in the kitchen and not just on tv. They are the ones who really impress me.

What is your favorite Italian ingredient you can't live without?

I'm from Bologna, in the Emilia Romagna region, so I can't live without Parmigiano Reggiano.

What is your favorite dish to cook?

I love making fresh made lasagna from scratch…with my grandma's recipe.

What are some things you wish Americans would do differently…or maybe "correctly" when cooking Italian food or dishes?

First of all, NO spaghetti with meatballs! We don't have those in Italy and they're simply disgusting just looking at the dish. Chicken parmesan, another no. Alfredo's sauce? I just call it a four or more cheeses sauce.

Are there any particular foods you miss from Italy that you just can't seem to get here in the States?

I miss the tortellini that my family makes every Christmas, you can't just find the proper ingredients to recreate such a treasure.

What do you miss most about Italy when you're not there?

Honestly I don't miss Italy that much, because I'm still very connected with the country, family and the traditions. I read every day the Italian news online and I'm in touch with my friends there.

Do you have a  favorite Italian restaurant in New York?

It's not a restaurant, it's my house.

You have a very diverse background of work experience and involvement, not only as a cooking personality…but author, writer, director, food critic, teacher, branding consultant, etc. What new projects are you working on now?

I'm currently focused on my online web show Date Night, which is going pretty well, and I plan to expand it and make it bigger, then to take it also on TV perhaps. I also finished writing my second play, and I'd like to start writing a book of fictional short stories about food.

What do you enjoy doing in your spare time? …if you have any (laughing)

Spare time is a big word. I love what I do every day and it's part of my job going out and trying new foods, drinks and art festivals, so the spare time is when I sleep I guess.

Thank you Riccardo for taking the time to chat with us.  We look forward to featuring your web shows on Italia Living. Good luck with all your endeavors. 

Grazie!