Sharing great food & teachings through his passion for true Italian cuisine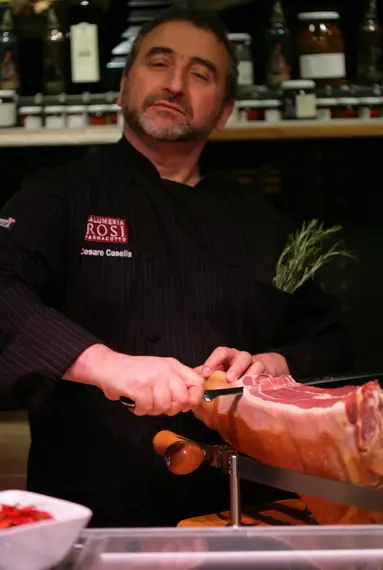 Cesare Casella is today a celebrated chef thanks to his parents, Rosa and Pietro, who raised him among the pots and pans of Vipore, the small trattoria they owned outside of Lucca. But it wasn't because the Casellas pushed or even encouraged their son to cook. Their dream was that he would become a doctor or accountant—any profession that would get him away from the stove. They even tried to bribe him to go to law school with a new car.  But by age 12, Cesare's niche was cooking alongside his mother. Vipore's kitchen doubled as the Casella's home kitchen, as their home was above the picturesque trattoria.
At age 14, Cesare enrolled in the Culinary Institute Ferdinando Martini, in Montecatini. Here, Cesare sharpened his practical cooking skills and studied the history of food. But some of his most valued lessons from the period were the impromptu "field trips" he organized himself.  The trips just happened to be to restaurants that were on the train route to and from school, and generally involved skipping class. It's a habit that has stayed with him, and, even today, Cesare loves detouring on any trip to try out a famous restaurant or out of the way spot.
After graduating, Cesare set about turning Vipore from a local favorite into both a regional and international destination. He began developing his trademark herbal cuisine, thanks in part to a garden with over 40 types of aromatic herbs, and updating traditional Italian recipes with new ideas and twists.  By 1991, Cesare had earned Vipore a Michelin star and a reputation that attracted clients from Henry Kissinger to Tom Cruise.
In 1993, Cesare was named Executive Chef of Coco Pazzo in New York City. Soon thereafter, he launched its sister restaurant, Il Toscanaccio. In March 2001, Cesare opened his first solo New York restaurant, Beppe, in honor of his grandfather, Giuseppe Polidori. Beppe earned critical praise and commercial success for authentic, rule-bending Tuscan cuisine. Cesare then launched "Republic of Beans," a company importing Italian heirloom beans, grains and spices.
In 2005, Cesare opened the critically-acclaimed Italian restaurant Maremma, located in Manhattan's historic West Village. In 2006, New York Magazine named Maremma one of the Top 5 "Best New Restaurants" in New York City and bestowed Maremma with the honor of "Best Mac-n-Cheese."  Chef Daniel Boulud summoned Cesare's expertise and charismatic personality to play host and featured guest chef, for an episode of his highly regarded television show "After Hours with Daniel Boulud."  Soon thereafter, Cesare appeared as a featured guest on "Dan Rather Reports." Rounding out 2006, Maremma was honored with 3 stars from Forbes Magazine, naming it one of the best restaurants in the country.
To kick off 2007, Cesare was featured on the popular Food Network show, "The Secret Life Of" with host Jim Connors. Together, Cesare and Jim uncovered the secret life of cheese.  Food critic Adam Platt deemed Maremma to be one of the "Best Places to Eat In 2007," and Cesare's lamb meatballs gained notoriety, claiming the #1 spot in New York Magazine's "Best Meatballs" in New York City. Cesare's professional aspirations extend in many directions, including writing three cookbooks: "Diary of a Tuscan Chef" (Doubleday), "Italian Cooking for Dummies" (IDG) and most recently, "True Tuscan" (Harper Collins). He has been featured in many publications, including Gourmet, Bon Appetit, Food & Wine, Martha Stewart Living, Saveur and most recently Departures< and La Cucina Italiana magazines . Cesare has been the subject of a series of the New York Times "The Chef" columns. His frequent television appearances include segments on ABC and CBS news programs, The Food Network's "Tyler's Ultimate" and "Molto Mario" as well as, "Martha Stewart Living." His appearance on the hit, Italian cooking show, "Brindiamo," chronicled Cesare at work in the kitchen at Maremma, as dean of the Italian Culinary Academy, at the International Culinary Center, and at Thanksgiving Farms. In the acclaimed television show "No Reservations," Cesare and Anthony Bourdain take on the Maremma and cook up a Tuscan feast. You can also find Cesare as a 'top judge' on Bravo's smash hit, "Top Chef".
He is the 2007 recipient of Food Art Magazine's, "Silver SpoonAward," which honors one chef for outstanding achievement in the culinary field. He frequents both the James Beard House and De Gustibus in New York City, as a featured visiting guest chef. Cesare is an active member and supporter of City Harvest, Autism Speaks, Slow Food USA, Chef's Collaborative, Seafood Alliance and the Gruppo Ristoratori Italiani (GRI), an organization which seeks to promote Italian cuisine.
When the French Culinary Institute announced its decision to further expand its culinary boundaries by becoming the International Culinary Center, a natural addition was an Italian school where Cesare was honored with the distinction of becoming its dean. Once announced as Dean of the Italian Culinary Academy, Cesare went on to design and write an extensive curriculum for its joint programs, in both New York City and Parma, Italy and continues to oversee the programs' development and the comprehensive training of all chefs and instructors involved.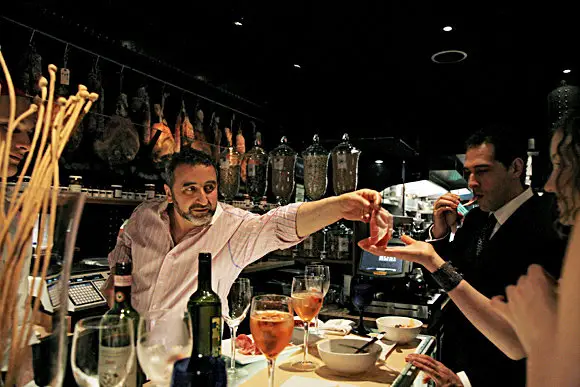 In late 2008, Cesare opened Salumeria Rosi (www.salumeriarosi.com) on Manhattan's Upper West Side.  Through his partnership with Parmacotto, Cesare has carved a place as the neighborhood salumeria, where people will stop for a pound of fine prosciutto, or for a tapas style dinner.  The salumeria has seen great acclaim in its first year, drawing the attention of such guests as Martha Stewart, Billy Joel, Kathleen Turner, Michael Douglas, Tony Bennett, Wynton Marsalis and Aerosmith's Steven Tyler.
Cesare also serves as Senior Manager at the Center for Discovery (www.thecenterfordiscovery.org) , which works in collaboration with Thanksgiving Farms, in upstate New York.  He is currently Project Manager for the DaVinci Project with the Center for Discovery, a project that seeks to raise awareness about sustainability and nutrition.  Chef is also currently working on a new project entitled "True Italian – Materia Prima," which is aimed at promoting a deep education in, and understanding of, Italian cuisine, ingredients and culture.  Chef is eternally committed to helping people understand that Italian culture is defined by its history and most basic components, much like Italian cuisine is defined by the ingredients from which a dish derives.
---
Chef Cesare Casella's Awards & Acknolwedgments
– "Green Shovel Award", presented by Senator John J. Bonacic
– Letter of recognition from US Senator Hillary Rodham Clinton
– Certificate of Special Congressional Recognition from Maurice Sanchez
– Letter of recognition from the Mayor of New York, Michael R. Bloomberg
– Letter of thanks from Diane Harris Brown, Executive Director of the James Beard Foundation
– Certificate of Acknowledgement from the James Beard Foundation (four certificates)
– Certificate of Merit from Gala Italia
– Certificate of Special Recognition for Distinguished Service from the Italian Trade Comission
– Ambassador of the White Truffle of Alba in the World from The Cavour Piedmontese Regional Enoteca in association with the Order of Knights of the Truffle and Wines of Alba
– Proclamation of Achievements from Senator Thomas P. Morahan
– Certificate of Completion from the French Culinary Institute
– Letter of thanks from Peter Kump, President of the James Beard Foundation
---
For more information visit these websites:
www.italianculinaryacademy.com
---
An Interview with Chef Cesare Casella, by Loraine Pavich

What did you love to eat growing up as a child?

I loved eating a lot of homemade bread and pasta. We also had mandarin oranges on the farm and I couldn't get enough of them.

Is there something you don't like to eat?

I love everything.  I do like certain things more than others.  One dish that comes to my mind is hare (rabbit).  When I was a child my mother used to cook it.  I did not like it as it had such a strong  smell and I would not eat it.

Where did you learn how to cook?

In a small town outside of Lucca we had a family restaurant named Vipore.  I started to cook with my mom when I was very  young.  The restaurant was in our house.  We used to invite our family the days the restaurant was closed and cook amazing meals together.

What is your favorite dish on the menu at Salumeria Rosi?

I still love the same foods I did as a child.  I love the breads and pastas on our menu.

Are your salami and prosciutto all imported from Italy?

Most are imported from Italy with my partner in Parma that runs our Italy location.  I have also found some incredible and talented makers in the United States. Of course, we also make homemade salamis here in our NYC space at the restaurant.

Do you have a secret ingredient you cook with?

Spezie Forti.  It is a blend of different spices that I use in a lot of my dishes.

Is there another cuisine beside Italian you enjoy cooking?

Not really (laughs very loud).  If I do cook anything other than Italian, it is American food.

What do you like to cook or eat at home?

I don't cook that much at home, as that is my time to relax from my busy work schedule.  We mostly eat Italian food and we do quite a bit of take out.  I do however love to cook for my 9 year old daughter.  She loves to cook with me and has recently expanded her palette.  Last week we made duck and I could not believe she ate it.

Do you have a favorite restaurant in NYC?

I never like to go to the same place; therefore I always eat at different restaurants.  Sometimes I love sushi; sometimes I love Italian, sometimes Chinese, sometimes French etc…  For example last week my friend and I went to Porter House.  It was a great steak meal.  The space is very interesting and it's in a fantastic location on Columbus Circle.  Michael Lomonaco is a talented chef and restaurateur.

What is your beverage of choice?

I love very good champagne on the rocks.

Do you travel to Italy often?

Yes all over Italy between 10-12 times per year.  I am going to Sicily in September to do a cooking tour.  I want to share with other people what it is like to visit Italy in the right way.

If you weren't a chef what you like to be doing?

I don't know.  I really don't know (pause and laugh).  Maybe a salami maker???

Where did you meet your wife?

We met in Italy in my restaurant.  She came in to interview me.

What is your favorite utensil in the kitchen?

I love to cook with a marble mortar and pestle.  I just recently rediscovered it.  That is what my grandmother always used in her kitchen and it brings back wonderful memories.  I also use my Mezzaluna knife everyday.

What an honor it is to be Dean of the Italian Culinary Academy.  What do you love most about being part of such a wonderful school?

I designed our program from my heart.  My jobs are to teach the staff and about 8 times a year I teach the students.  Our unique Italian cooking school curriculum divides the student's time between New York City and Parma, Italy.
---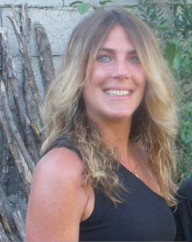 Loraine Pavich has had a diverse career in publishing with several successful magazines.