In his new book, "The Tucci Cookbook," a tribute to authentic Italian cuisine, the actor brings his passion for food, family and tradition to every page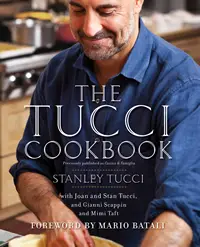 Award-winning and critically acclaimed actor/producer Stanley Tucci shares a taste of Italy in "The Tucci Cookbook," on sale now. At 400 pages chockfull of delicious Italian dishes like Spaghetti with Tomato and Tuna, Venetian Seafood Salad, and Timpano, this cookbook is a must-have for anyone who loves good food.
Tucci is doing much more than sharing his love of Italian cuisine—he's also helping to provide meals for New Yorkers in need. The author, a member of Food Bank For New York City's Board of Directors, is donating 10% of his advance and 25% of any of his subsequent earnings from this book (in each case, net of agency fees) to the Food Bank. His generosity will help provide meals for the nearly 3 million New York City residents who have difficulty affording food. Every dollar donated helps provide five meals. Food Bank provides 400,000 free meals per day through our network of 1,000 food pantries, soup kitchens, shelters and other community-based programs, and we are extremely grateful to Stanley Tucci for his commitment to hunger relief in New York City.
It's no surprise that Tucci's recipes and family stories perfectly capture the essence of Italian cuisine—hearty and delicious meals made with love. Each recipe, after all, is rooted in tradition. Tucci's childhood was steeped in the aroma and flavor of classic Italian fare. And his turn in the director's chair helming the foodie film "Big Night" brought those early culinary experiences full circle.
Read an interview with Stanley Tucci at Gourmet Magazine
To purchase a copy of "The Tucci Cookbook," visit the Italia Living Amazon Store
To learn more about Food Bank For New York City, go to foodbanknyc.org