Patsy's Restaurant, an icon in NYC since 1944 and a favorite eatery of Frank Sinatra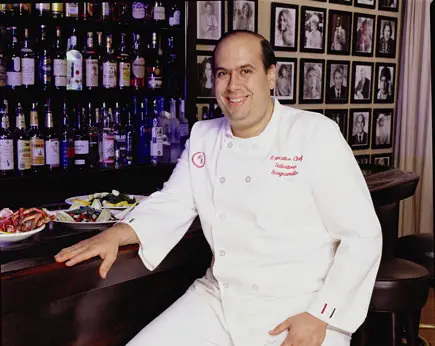 Salvatore 'Sal' Scognamillo is a co-owner and third generation executive chef of the world-renowned Patsy's Restaurant, the original family owned and operated Italian restaurant at its only Manhattan location, 236 West 56th Street on Manhattan's West Side.  Founded in 1944 by Pasquale "Patsy" Scognamillo, Patsy's has been in its current theater district location (in the building just next to the original site) since 1954.  Trained by his father, Joe, and his grandfather Pasquale "Patsy" before him, Sal Scognamillo has maintained same level of comfort and quality that made Patsy's famous over 66 years ago.  In over 25 years as executive chef, Sal has had the opportunity to prepare meals for many of Patsy's most well known customers including Frank Sinatra, Rosemary Clooney, Tony Danza, Jennifer Lopez, George Clooney, Diddy and many more.

In June 2008, Patsy's opened their second and only other location in The Atlantic City Hilton Casino.  Patsy's was, and remains a family restaurant.  Sal co-owns the restaurant with his father Joe and cousin Frank DiCola.  Sal is also a kind, wonderful family man and extremely down to earth.  Having a meal at Patsys is truly a special dining experience.  I suggest you run, not walk, to Patsys especially for my favorites – the Chicken Contadina, Spedino Alla Romana, Caesar Salad, and Italian Cheesecake.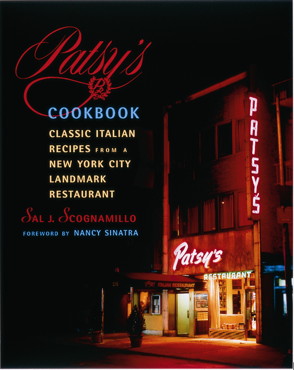 Purchase their cookbook at the left, and visit Patsy's online:
Facebook:
www.facebook.com/patsysitalianrestaurant
---
An Interview with Salvatore 'Sal' Scognamillo

Who is the founder of Patsys?

It was my grandparents Pasquale and Concetta Scognamillo in 1944.

Were you raised in NY?

I was born in Brooklyn. We lived in Queens until I was five, and then we moved to Valley Stream, Long Island.

Did you go to cooking school?

No.  My grandfather Patsy was the first chef.  He taught my dad how to cook, and my dad taught me.  I actually took television and film production while in college at St. Johns University, and that's what I intended to do.  My father never forced me to come work at Patsy's.  At the time I had trouble finding a job,  and since I was not working, he asked if I would at least like to come to learn how to cook.  I figured I'd try it as, if nothing else, it's a good life skill, and I just loved it.  I started there full time back in 1985.

Has the menu changed much since 1944?

The heart of the menu is the same.  It's a red sauce Italian restaurant.  We have added things throughout the years.  I think one of the biggest changes is that we no longer have brains oreganata (laughs) which I think is illegal today and just sounds insane.  We've also added specials throughout the years, but the classics are still all there.  We don't try to pretend to be something we're not.  This is a true Southern Italian stick-to-your-ribs, home-cooking kind of place.

What time do you and your staff start cooking in the kitchen?

I get in here in between 9am and 10am .  The most important thing is for me to get here early and take care of the things that really take a lot of time… the baking of the cheescakes and the tiramisu, cannoli, the sauces.  This morning I have a pot of  marinara cooking and a Filetto di Pomodoro.  I'm making the special Sinatra bracciole dinner, which takes over three hours to cook.  When people are off, such as the sauté man, I will fill in that position at night.  If not, I am fortunate enough to get out of the kitchen and walk around the dining room to make sure everyone is being taken care of.  I just love to interact with people.

Do the grueling restaurant business hours sometimes get to you?

In general the answer is no.  I really love what I do.  I think the hardest part about it is you do really miss out on family functions.  My kids are in school. By the time I get home they are sleeping, and when I am sleeping in the morning they are already out of the house. So that part is a little bit disconcerting, but everything else is very enjoyable.

Frank Sinatra was a very loyal customer.  What is your fondest memory of him?

It was when I was first cooking for him, when I was about 22 years old.  He just wanted to make me feel comfortable, as  I'm sure he knew the effect he had on people.  So my father sat Frank down at his table.  My father was the chef at that time, but was wearing his suit, and Frank said to him, "Joe what are you doing in your suit? You have to put on your chef outfit."  He said, "No, No, Frank, my son Sal took over as the chef".  He looked at my father and said,  "Let me see him".  I was in the kitchen cutting up an onion, the doors swung open and there is Frank Sinatra.  I said, "Hi".  He just looked at me and said ," Hey kid", and  I said, "Yes Mr. Sinatra?",  Frank looked at me and said, "Make sure you cook as good as your pop does".

What was Frank's favorite meal at Patsy's?

He loved the clams posillipo.  Those are clams poached in a marinara sauce with a little white wine.  He loved the stuffed artichokes, and also the arugula salad prepared simple with extra virgin olive oil and red wine vinegar.  As a main course, he would order the veal cutlet Milanese.  I remember to this day that he liked it pounded paper thin and fried until it was crisp.  For dessert he like the very traditional Italian desserts and would order the cannolis, sfogliatelle and the Italian cheesecake.

What is your favorite dish at Patsy's?

If I had to pick one thing, it would be pasta. I like the Rigatoni Sorrentino. It's a tomato basil sauce, and we mix it with ricotta.  On top is melted mozzarella, which is topped with parmesan cheese.  When I am in the mood for garlic, I just love clam sauce, and we do a really nice one here.  For meats, l love the veal rollatini.  It's veal pounded thin and stuffed with mozzarella and proscuitto.  We roll it up and sauté it with onions and mushrooms in a marsala wine sauce.

What is a quick and easy nutritional dish to make using some of the Patsy's sauces?

One of my favorites is the beans and macaroni soup.  It's very simple.  You start by sautéing some olive oil, and then add some onions.  Add a glass of water or  low sodium chicken broth and cooked cannellini beans.  Finally, add some Patsy's marinara sauce.  Bring it all to a boil.  Cook your pasta separately.  I usually use a tubetti or a mini shell so it catches the soup.  Drain the pasta, add it to the sauce and let it finish cooking.  It really is a quick, easy meal to make.

What is your favorite restaurant in NYC (besides Patsy's of course)?

There are so many to choose from.  I really do enjoy Ben Bensons and The Palm for steak, since we're not a steakhouse. I also miss Billy Hongs in Midtown for Chinese (I suggested to Sal to check out Chin Chin, which serves incredible authentic Chinese – he said he will).

My favorite dish is the Chicken Contadina. It's absolutely amazing, and no one makes it better than you guys.  Who came up with this recipe?

That is one of our biggest sellers, too.  Grandpa Patsy had that on the menu from Day 1.  I think the simplicity of it is what really hits home.  It's just chicken, garlic, peppers, mushrooms and potatoes.  We try to stay true to the original recipe.  My great grandfather was a chef in Naples, and my grandfather brought that recipe over with him when he came to America in 1927 or 1928.

Do you travel to your Atlantic City location often?

I do.  Whether it's me, my cousin or my father, we are always down there checking on the quality.  We have been blessed with a great crew in Atlantic City.

Is your father still very involved in the business?

Oh my God!  He is working everyday. He works more than me (laughs)!  I am trying to get him to slow down.  God bless him, he is 78.  He has been here the entire 66 years.  I always make a joke and say that I have no shot at retiring anytime soon.  I am grateful for having him, as he is such an influence and is still a better cook than I will ever be.  Whenever I take a vacation (which is rare) he jumps in the kitchen for me, and I think he still loves the kitchen more than anything else.  What amazes me about him most… and there are many things… is that he has never forgotten a recipe… it's all in his head!

What is your idea of the perfect Sunday Italian dinner?

At home with the family starting off with the antipasto (roasted peppers, mozzarella, sopressata and all the coldcuts,) a nice salad and, of course, a pasta dish followed by a roasted chicken or ham.  If the football game is on, then we will all watch that.

If you weren't at Patsy's, what would you be doing?

I've always loved television and film production, so I imagine that I would either be working technically as a cameraman or somehow making a movie about something.  It has always been a passion of mine.  Now I say I have to combine the two things: cooking and film. Maybe someday I will make a movie about Patsy's.

Do your children have any interest in the business?

My youngest son Peter (11)  has actually been on a few local-channel cooking shows.  He absolutely loves to cook without me ever having said anything to him about cooking.  Peter sometimes even cooks at home for my wife.  In the summer when they are not in school, I take them to the restaurant with me once or twice a week.  My older boy is almost 15, and he loves being out front, as he says that the kitchen is too hot.  They've both already decided that they want to work at Patsy's.  I told them I will not force them, and God willing if the place is still here, we can talk about it… BUT, they need to get their education.

What do you like to do on your day off?

Sleep. Hahahahahahaha.  My hobbies are photography and tropical fish.  I combine the two by taking pictures of the fish.  The most important thing is to spend time with my family.   We also love to visit with the grandparents, who all live about a mile away.
---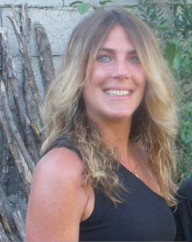 Loraine Pavich has had a diverse career in publishing with several successful magazines.