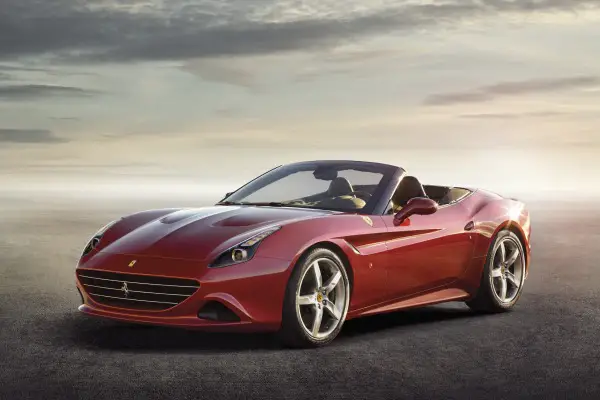 Designed at the Ferrari Styling center in collaboration with legendary coachbuilder Pininfarina, the 2015 California T maintains the previous model's proportions, while adding more muscular design in taking its inspiration from the 250 Testa Rossa.
The California T will be powered by an all new 560-horsepower twin-turbocharged 3.9-liter V8 engine with an eye on cutting fuel consumption by 15 percent. With virtually zero turbo lag, it will propel the California from 0-60 in well under 4 seconds and reach a top speed of 196 mph.
The 2+2 features a well appointed cabin with semi-anline leather trim and a large tachometer front and center in the dash and an elegantly simple multi-function display/control center in the center console that uses a sensible combination of touch-screen and traditional controls. Best of all, the retractable hard top allows the California to make the transition from a coupe to a convertible in just 14 seconds.
The Ferrari California T will make its official debut next month at the Geneva International Motor Show. The car is expected to arrive at U.S.dealerships in the second half of 2014.
Pricing has yet to be announced, but you can see images and get more information online at Ferrari.com