Ahead of the Formula 1 Spanish Grand Prix, a symbolic first brick from the home of Enzo Ferrari was laid at the site of Ferrari Land, a new theme park to be built within the PortAventura resort complex south of Barcelona.
The ceremony took place in the presence of Artur Mas (president of the Catalonia regional government), Arturo Mas-Sardà (CEO of PortAventura), Maurizio Arrivabene (director of Scuderia Ferrari), and Sebastian Vettel.
Located near the main entrance of PortAventura, Ferrari Land will include reproductions of the traditional houses in the village of Maranello, Italy, along with other elements linked to the famous car maker's history.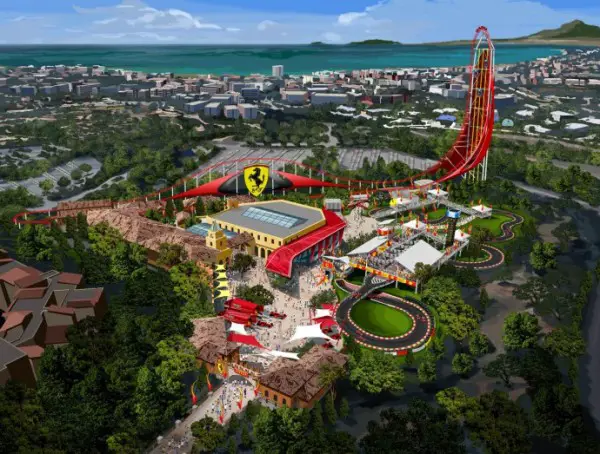 The theme park will also be home to Europe's highest vertical drop roller coaster (112 meters/367 feet), with acceleration from 0 to 180km/h in five seconds, equivalent to 1.35G. Visitors will also have the option of staying at the world's first Ferrari Hotel.
A celebration of speed and of Italian automotive tradition, the park will cover a total area of 75,000 square meters (807,300 square feet). Construction costs are estimated at around €100 million ($113 million).
The attraction will not be the world's first Ferrari theme park, however. Opened in 2010, Ferrari World is located in Abu Dhabi, within the race track that hosts the emirate's annual F1 Grand Prix.
The park includes around 20 attractions, including an enormous roller coaster and a go-kart track.
The PortAventura resort complex, which already includes an amusement park, a water park and several golf courses, has been visited by over 60 million visitors in its 20 years of existence.
PortAventura describes its partnership with Ferrari as "single most important project in the history of PortAventura Resort" and says it has invested nearly €100 million (US$1.14 million) in the new theme park. It expects the park to attract 5 million visitors and over 1 million overnight stays by 2017.
Ferrari Land is scheduled to open in 2016 and PortAventura says it will continue to be developed over the following years.