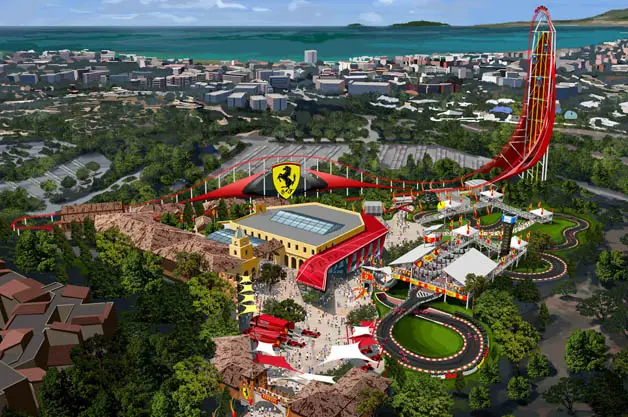 In a recent survey, Ferrari was awarded the most powerful brand in the world. Now the Italian sports car maker has signed a licensing agreement with PortAventura Entertainment S.A.U to build a theme park and five-star hotel.
Located at the PortAventura resort near Barcelona, Ferrari Land is expected to spread out to 75,000 square metres. Estimated over $140 million, the auto-themed project will include the first Ferrari-themed hotel and Europe's highest and fastest vertical accelerator.
Planned to open in 2016, the family park will also lure travelers and Ferrari fans with a 250-room luxury five-star hotel along with restaurants, pool and even a driving simulator for adrenaline junkies.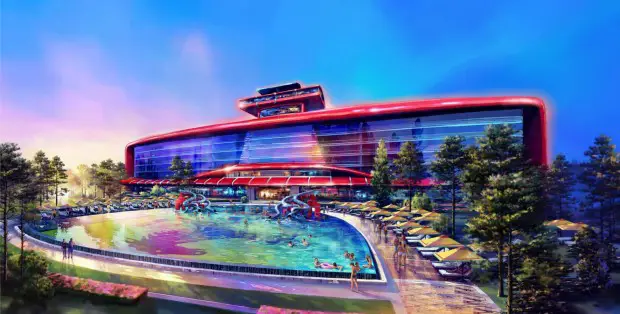 Andrea Perrone, CEO of Ferrari Brand, supported the project by stating, "After the success of Ferrari World in Abu Dhabi, we received many, many requests to develop new amusement parks. We carefully sifted through the various proposals and decided to accept Investindustrial's because it is a very solid plan developed by competent people that will bring the magic of Ferrari to Spain, a nation where we have many supporters and enthusiasts, and to which large numbers of tourists flock each year, in part thanks to PortAventura." He also added that, "This new licence further underscores our brand's presence in this area. Ferrari Land will delight the whole family and not just Formula 1 fans. We will continue to evaluate other proposals for theme parks outside Europe at our leisure: the brand is our most important asset and we have to enhance its value without diluting it."
Sergio Feder, Executive President of PortAventura, also declared: "After our successful experience with Gardaland (Italy's leading amusement park with almost 3.5 million visitors a year), we developed a long-term business development plan with Investindustrial to make PortAventura one of the best family destinations in Europe. Right from the start we have always been clear about our desire to develop the resort with high-profile international brands to ensure we achieve our target of around 5 million visitors a year. Ferrari was an obvious choice for this, not merely because of what the brand itself represents but also because of its experience with the Ferrari World Park at Abu Dhabi. It is also a source of great pride to us to be able to support such a world-famous and internationally-respected brand."
The Italian sports car maker's first such theme park had opened up as Ferrari World in Abu Dhabi in 2010. This Middle East Ferrari themed amusement park is located on Yas Island and boasts of the world's fastest rollercoaster and is also the world's largest indoor theme park.