One of 90 cars showcased at this years Ferrari Cavalcade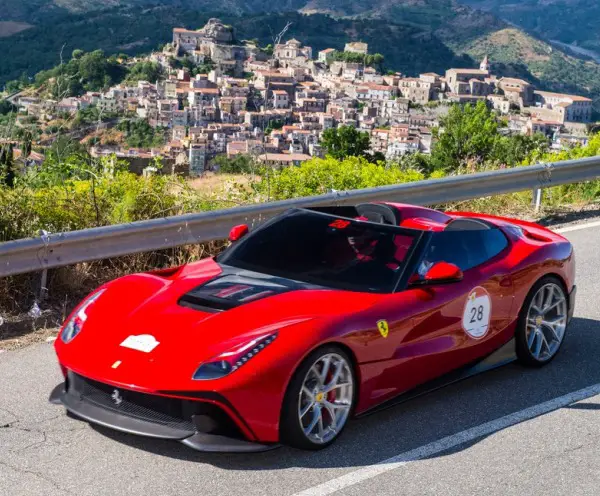 The Italian super-brand Ferrari, had reported recently it would cut down the number of models it built to maintain exclusivity. Ferrari decided to henceforth manufacture only 7,000 models of any particular vehicle. With this, they also announced they will increase the occasional one-off project. The latest – F12 TRS, a one-off custom design making its public debut on Sicilian soil and carries a hefty $4.2 million price tag.
Based on the F12berlinetta, the car was developed at a client's request as an extreme, two-seater, open-top sports barchetta. The design and name "F12 TRS" comes from the 1957 Ferrari 250 Testa Rossa, which is the car that drew the inspiration of Flavio Manzoni and the Ferrari Style Centre team.
Like all one-off Ferraris, the F12 TRS is the product of Ferrari's now-classic approach of creating a truly integrated design. Ferrari has provided the F12 TRS with a 6.3-litre V12 engine, which powers the Berlinetta. The new F12 TRS, like Ferrari's previous model, the Berlinetta, will have certain components in common, like the engine. It is tuned to produce 508 Nm of peak torque along with 729 horsepower. The supercar will achieve a top speed of 339km/h and will sprint from 0 to 100 in 3.1 seconds.
This one-off exclusive was just unveiled the weekend of June 21-22 in Sicily during the Ferrari Cavalcade. The F12 TRS was one of 90 cars that were included in this year's event.