Introduction of turbo engine makes for more power and efficiency than the 458 Italia it replaces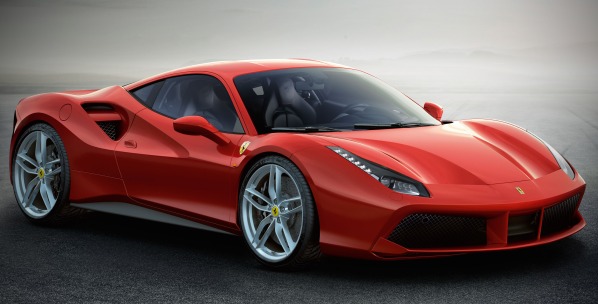 This new Berlinetta features a 3.9 Liter twin-turbocharged V8 engine that makes 661 horsepower. Ferrari claims the new mid-engined masterpiece from Maranello will go from 0-200 kph (122 mph) in just 8.3 seconds and has lapped their famed Fiorano test track in just 1:23, a mere 3 seconds slower than a LaFerrari. These remarkable feats of performance have been achieved by a combination of advanced electronics, improved engine technology, uncompromising platform architecture and rocket-science level aerodynamics.
The main point of the new Berlinetta is that it's lighter (by 45 pounds), cleaner and quicker than the car it replaces, the 458 Italia. It also demonstrates the way in which increasingly stringent emissions restrictions have affected automakers in very real, very tangible ways. Its efficiency numbers set a new record for a street-legal production Ferrari.
The Ferrari 488 GTB will make its live world debut in March at the Geneva Motor Show, where pricing will be announced. It will go on sale in the United States during the second half 2015.