According to the results of a latest study conducted by British research firm Brand Finance, Ferrari is the world's most powerful brand.  The study in which compared the brands of the world's top 500 companies, Ferrari outperformed much larger automakers such as BMW, Lexus, Mercedes-Benz and Volkswagen.
The iconic automaker also managed to outpace giants such as Apple and Coca Cola when it came to brand power, although it fell short when it came to overall brand value, which was only $3.6 billion, compared to Apple with a brand value of 87.3 billion.
One of the key factors of brand value is revenue. As an exclusive luxury brand, Ferrari cannot compete with the likes of Apple or Coca Cola on huge multinational levels. However, when you factor in other important financial metrics such as net margins, average revenue per customer, marketing and advertising budgets, along with qualitative measures such as brand affection and loyalty, the Prancing Horse leads the race.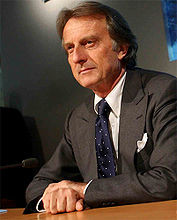 "It is always a pleasure to top any list and still more so when the competition includes some of the world's most famous companies," Ferrari chairman Luca di Montezemolo said in a statement. "This achievement proves that even in very tough economic times, Italy can still offer the world businesses of excellence."
Five Most Powerful Brands and their brand values (in billions):
1) Ferrari – $3.6
2) Google – $52.1
3) Coca Cola – $34.2
4) PwC – $16.4
5) Hermes – $4.5
Five Most Valuable Brands and their brand values (in billions):
1) Apple – $87.3
2) Samsung – $58.8
3) Google – $52.1
4) Microsoft – $45.5
5) Walmart – $42.3