Meet the 1,035 horsepower track-only Prancing Horse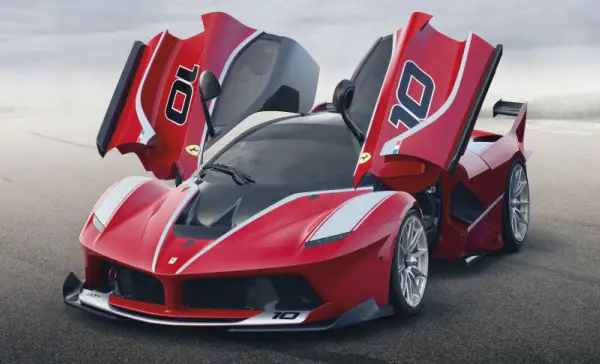 The LaFerrari is one of Maranello's greatest creations of Ferrari. At 950 hybrid horsepower, it's about as monstrous a machine as one could possibly build for the public roads. So how does the Prancing Horse kick it up a notch — meet the track-only version 1,035 horsepower 6.3-liter V12 engine LaFerrari FXX K.
Scheduled to make its first real-world appearance at the Yas Marina Circuit in Abu Dhabi December 5-7, Ferrari describes the car as "completely uncompromising" and promises that those lucky few that get to own one will get an "unprecedented driving experience."
The FXX K is 194mm longer and 59mm wider than the standard LaFerrari hypercar on which it's based. The K is a reference to the F1-inspired KERS kinetic energy recovery system – in which the energy developed under braking is then used to give the car an extra boost under acceleration. The HY-KERS system has four positions for optimal performance: Qualify (maximum performance within a limited number of laps), Long Run (consistent performance), Manual Boost (instant maximum torque delivery) and Fast Charge (rapid recharge of batteries).
Ferrari won't reveal other performance statistics as of yet, but it's safe to say that a car that is not restricted by road car regulations or by race car rules either — the FXX K will only every compete with other FXXKs — it will have a faster 0-100km/h time than the LaFerrari's (under 3 seconds) and should also go past the standard car's 217mph (350km/h) top speed, too.
Exclusive ownership? You bet! Only a few carefully selected customers will have the privilege of ordering one.
The new Ferrari retails for $2.7M and as it was reported as of December 8th – all 32 are already sold out.
Although this is the most expensive NEW Ferrari ever built, A Ferrari dealer in Florida offered an FXX Evoluzione for sale earlier this year with a price tag of roughly $2.2 million, while a Swedish dealer sold one owned by legendary Formula One driver Michael Schumacher for $2.6 million last year, according to Digital Trends. Other Ferraris have sold for much more at auction. According to Sotheby's, a Ferrari 250LM sold for $14M, and others have sold for much more. In February 2012, a 1964 Ferrari 250 GTO became the most expensive car ever sold, fetching a staggering $32 million.