Ferrari unveils F12berlinetta Polo and FF Dressage Editions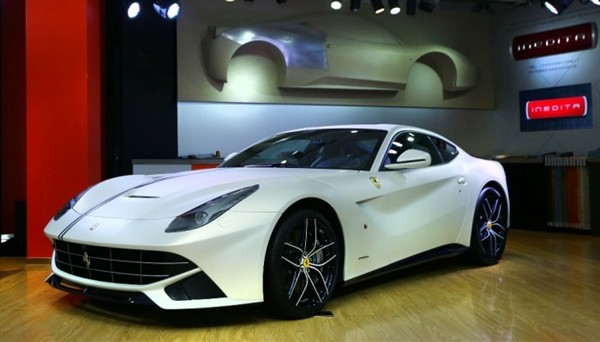 Ferrari has opened a centre in Shanghai to provide customised cars as per the requirements of its esteemed clientele. Ferrari calls this a Tailor-Made Centre and it is the first one in the Asia Pacific region.
The brand-new centre is located on West Beijing Road, one of the most prosperous areas in Shanghai, with world-class facilities and provide the best services to create bespoke Ferraris through unique combinations of the many options available.
Ferrari couldn't keep the new centre empty, so they created special editions of the F12 Berlinetta and the FF. These editions are inspired by horse racing, which, according to Ferrari, represent 'elegance and passion in speed'.
The F12 Berlinetta Polo edition has a white body and offset navy-blue stripes. The stripes-based theme continues on the inside as well. The interior also has carbon-fibre elements to gel with the sporty character which the design tries to convey.
While the Polo edition is designed to attract racer-boys, the Ferrari FF Dressage edition is more for the mature buyer. The body colour is Black Piano Nero (i.e. black) and the insides are finished in red-brown coloured leather. Ferrari also says that the sewing pattern makes it more comfortable and composed during the ride.
Speaking on the occasion, Edwin Fenech, president and CEO, Ferrari, Greater China, said, "Each Ferrari is unique. Ferrari's customization tradition began in 1950′s when the brand just started. The Greater China is the second largest market for Ferrari, the Tailor-Made service will provide top-class services to our exclusive customers with unique luxurious experiences, perfectly meet the growing demands of more creative personalization among Chinese customers."
China is the second-largest market for Ferrari. The Ferrari Tailor-Made program in Shanghai will help to meet the growing demands of car personalisation among Chinese customers.