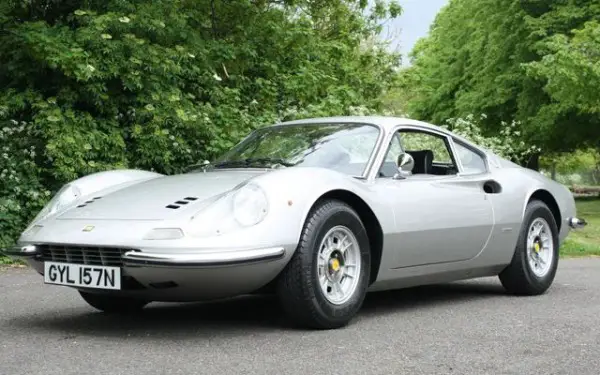 Dubbed the "ultimate Dino" by auction house Coys, the 1972 Ferrari Dino 246GT that will go under the hammer was purchased by Rolling Stones star Keith Richards in California in February 1972.
He brought it to the UK in 1975 and owned it until 1986. In those fourteen years, Richards managed to rack up over 25,000 miles. It later spent time in a prestigious Japanese collection.
Finished in Argento silver with a black leather interior and period-correct Cromodoro alloys, the mid-engined Dino is powered by a 2.4-liter V6.
Conceived as the first ever 'affordable' Ferrari, the Dino was named in honour of Enzo Ferrari's late son, Alfredo "Dino" Ferrari, who was involved in developing its engine before his passing due to Muscular Dystrophy.
The car came to fruition because Dino had been bugging his dad about making cars that competed more directly with the Porsche 911 and developing a V6 engine that could be used for racing in Formula 2.
Coys, an auction house based in England, has announced it will be selling a 1972 Ferrari Dino 246 GT at no reserve at an auction in Monaco on May 9.
Chris Routledge, Managing Partner at Coys, said: "A Dino offered at no reserve is rare enough in itself and would make this a highly desirable and collectible item in its own right, but when one adds to this proven long-term ownership by rock and roll aristocracy, the Keith Richards car has to be the ultimate Dino and will surely give any car collector and rock enthusiast a great 'Satisfaction'!"
For auction house info visit: http://www.coys.co.uk/auction.php