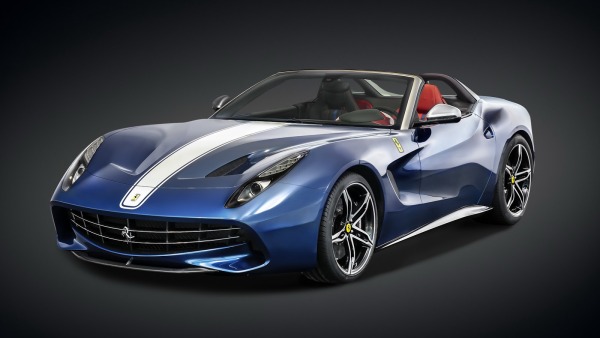 This year marks the 60th anniversary of Ferrari sales in the U.S. market, and the Italian company is celebrating with a special-edition version of its F12 Berlinetta sports car. To honor Ferrari's 60th Anniversary in the United States, the new model named the Ferrari F60 America, is limited to just ten copies – all of which have already been purchased by established Ferrari collectors.
The 729-horsepower supercar will be publicly unveiled at an anniversary celebration gala dinner at the Beverly Hills City Hall on 11 October – one day before Ferrari President Luca di Montezemolo's official final day with the company.
The F60 is an open-topped version of the phenomenal F12 and thus features a mid-mounted, 730 hp V12 engine that is capable of powering the F60 from 0-60 in just 3.1 seconds. Its light canvas top is hidden behind the leather trimmed roll hoops under the carbon fiber flying buttresses and can be opened and closed at speeds of up to 50 mph.
The paint scheme is in homage to the Ferrari North American Racing Team livery and the black and red interior is inspired by historic Ferrari racing designs.
No pricing was announced at time of this writing, but we expect it to be significantly higher than the $318,000 you'll shell out for the base F12. If you must have one, keep your eye on the auctions in a few years – you might find one or two at prices exponentially higher than their owners paid for them.
Speaking at this years Paris motor show, new Ferrari chief Sergio Marchionne expressed slight frustration at the fact that all the anniversary models had already sold, however. "I'm not saying we should make 20", he said, "but I think we should make the product available."