A unique personality that has found a balance of success with restaurants, books, television…and life!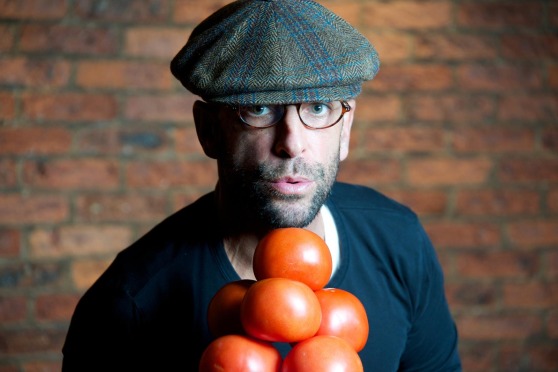 Victor Rallo is a successful, seasoned restaurateur and wine critic in New Jersey. After graduating from Villanova University and earning his JD from Seton Hall, Victor jumped directly from the world of law into the restaurant business. For nearly three decades he has owned and operated Basil T's Brewery and Italian Grill in Red Bank, and also Undici Taverna Rustica in Rumson, both of which have received numerous awards for excellence in cuisine, service, and their extensive Italian wine lists.
Recently, despite its success, Rallo temporarily closed Basil T's to undergo renovations and will reopen this early September as Birravino, a new brewpub under the same ownership. Birravino, the combined Italian words for beer and wine, will serve food that is more of a Mediterranean style with smaller portions at lower prices in an open atmosphere.
Victor is also an Italian wine expert and critic recognized for his exceptional palate and distinct personality. He's published two wine books, Napoleon Wasn't Exiled and 21 Wines.
Victor hosts his own television series called Eat! Drink! Italy! with Vic Rallo which completed its first season on public television in 2013, and recently aired its season on Create TV in July of 2014. He visits Italy six to eight times per year to find inspiration for his restaurants, and to taste and write about the wines from every region of Italy.
You can visit his website at: http://victorrallo.com and Eat! Drink! Italy! at: www.eatdrinkitaly.org

An Interview with Vic Rallo

Your two restaurants are here in Monmouth County, New Jersey. There are LOTS of Italian restaurants in Jersey…not all very good…but yours get rave reviews. What would you say is important to you in making your restaurants successful?

Most restaurants in NJ either promote quantity or value… very few promote quality. Our sole existence is based on serving quality food. In Italy, that notion is based on the term la material prima or the prime ingredient. If you put good stuff in, you get good stuff out.

Basil T's in Red Bank was closed while it underwent a transformation. Can you share a bit of what is happening and what is to come?

Over the past 10 years, I've been fortunate enough to travel to Italy more than 20 times, discovering the delicious food, wine and culture of the Italian people. During my journeys, I've has cooked and eaten in both obscure and off-the-beaten path Italian kitchens, as well as restaurants run by famous Michelin starred chefs. These experiences have encouraged me to share my passion. The menu will consist of smaller portions similar to those found in Italy, allowing customers to experience more of the flavors of Italy at a very reasonable price. You can read more about the philosophy of Birravino at www.birravino.com.

Was there anyone that inspired you to begin cooking?

My father was a great cook taught by his mother. They were a family of 8 living during difficult times. It forced them to be creative and innovative, the key to great cooking. Combine that with the notion of material prima, and you've got a home run. I owe my love of cooking to my father, Big Vic.

What's your favorite dish to make?

I eat in a restaurant almost every night of the week. When I'm cooking at home, I love to fire up the grill, cook some dry aged steak with my special Sardinian sea salt and herb rub. This time of the year with a tomato salad, grilled red onions and rosemary creamer potatoes. Doesn't get better than that.

You are also very knowledgeable and active in the wine industry…what is your favorite most versatile go-to wine?

While filming season 2 of Eat Drink Italy on Create TV, we visited Mt. Etna in Sicily. I am in love with Nerello Mascalese from Mt. Etna. Light colored, elegant, fruity and complex. The Burgundy of Italy.

Any plans or desires to open more restaurants?

You just never know!

Do you still get to Italy often?  Do you have a favorite region?

About 8 times a year filming and visiting wineries, restaurants and cultural locations. Italy is a country of 20 diverse regions. The problem is, every time I visit one region and say it's my favorite, I go to the next region, and have a new favorite. Try them all, they're like Ben and Jerry's Ice Cream. A lot of flavors to suit all tastes.

You really have a full plate with all your successful business ventures…WHEN you find free time, what do you enjoy doing?

I enjoy spending time with my wife and 3 children, eating, drinking, loving and living. I also am a nationally ranked age group triathlete and cyclist.

 Thanks for your time Vic, we wish you much continued success!