Being held March 10th, 2011 – A project to promote 'Made in Italy', in collaboration with the Ministry for Agricultural, Food and Forestry Policies and with patronage by the Ministry for Foreign Affairs.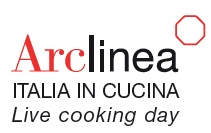 Arclinea, renowned Chefs and the best Italian food and wine will be the main players of this great new cooking marathon, which from New Zealand to the United States, via the Far East and Europe, will see the spotlight firmly on Italy, the heart and soul of Mediterranean cuisine.
Backed by the success of the first event, again for 2011, Arclinea and the Ministry for Agricultural, Food and Forestry Policies, this year also in collaboration with Buonitalia and with the patronage of the Ministry for Foreign Affairs, have organised live cooking shows that aim to promote authentic Italian food and design products throughout the world.
"ITALIA IN CUCINA, live cooking day" will ensure worldwide promotion, with its second edition on Thursday 10 March 2011, of the special characteristics of the MEDITERRANEAN DIET, recently awarded world heritage status by UNESCO.
Arclinea has been chosen by the Ministry as a company capable of representing this Italian style of cooking throughout the world. Thursday 10 March 20 Arclinea showrooms, each with fully functional kitchens featuring unmistakable appeal, exceptional design and the highest performance levels, will be the stages for skillfully organized Live Cooking Shows. The imagination and flair of renowned Chefs and prestigious cookery schools will enhance the goodness, freshness and nutrition value of the ingredients from Mediterranean cuisine, the leading actors in Italian food culture.
In addition to the performances taking place in Arclinea showrooms around the world there will also be a special Live Cooking Show at the BOSCOLO ETOILE ACADEMY in Tuscania and EATALY will be promoting the international event in New York.
Guests will include, among others, prestigious Italian Institutions worldwide, including embassies, consulates, cultural institutes.
For showrooms and special collaborations see the Press Release: