Ingredients for success – combine looks with comedy, good foods and delectable recipes.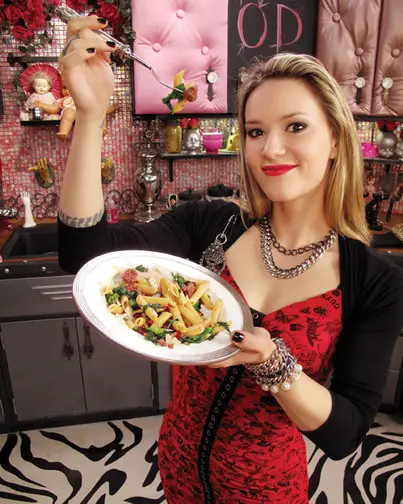 Nadia G. and Bitchin Kitchen: Cooking Up Comedy In Cherry Stilettos
MAY 2011 – Nadia G. (Giosia) is young, funny, and can cook up a storm in 3-inch cherry stilettos. Hailed as the "Julia Child of the Net generation," she is the creator and host of the new Cooking Channel series Bitchin' Kitchen (www.bitchinlifestyle.tv). Hilarious, informative and deliciously demented, this stylish comedy-cooking show is unlike anything else on TV. Set in a candy-colored kitchen decked out in animal print and leather, Bitchin' Kitchen looks at the funny side of everyday life situations and turns them into occasions worth celebrating – with great food and big laughs.
Nadia G. Blazing Trails
Nadia G. was an early pioneer of the online entertainment industry. For the last 7 years, she has run her own boutique 2.0 design/branding studio, but always felt something was missing – the food! So she decided to have her cake… and design it, brand it, write it, produce it and eat it too. In 2007 Bitchin' Kitchen debuted as a three minute mobile show. A runaway success, the show quickly gained the attention of mainstream broadcast media. In 2010 Bitchin' Kitchen premiered on Food Network Canada and became the first ever first online lifestyle entertainment brand to successfully transition from internet to primetime.
Bitchin' in the US & Canada
In October 2010, Bitchin Kitchen made its' primetime American debut on Cooking Channel. An instant hit in Canada, Bitchin' Kitchen is not your average cooking show. Armed with a crew of misfit food correspondents, a tea towel made of chain mail, fresh organic ingredients and a sharp tongue, Nadia G. whips up the perfect blend of food and humor. In each episode she shares accessible, inspiring recipes to suit nearly any life situation, from breaking up to making up – all peppered with her signature 'Nadvice.'
Nadia G's Homegrown Food Philosophy
Fearlessness, patience, creativity and love are Nadia G.'s secret ingredients and her kitchen code to success! Trained at the culinary institute of Hard Wooden Spoon Whacks, her passion for food and cooking came from growing up in a boisterous Italian family consisting of cooks and caterers who never quite gave up the belief that Casalinga-style cuisine is the centre of the universe. Nadia G. is home-schooled, DIY and proud of it. She says "You don't have to look far to taste some of the best food the world has to offer. I'd pit my grandmother against a 3-star Michelin chef any day."
Cooking at Home – Bitchin' Style
Nadia G.'s best-selling book The Bitchin' Kitchen Cookbook: Rock Your Kitchen and Let the Boys Clean Up the Mess (skirt!, 2009) is more than just a cookbook. Providing delectable recipes and hilarious anecdotes, the book shows how even the most novice cooks can recreate the Bitchin' Kitchen cuisine. In addition to being a chef-comedienne, Nadia G. also has a fierce sense of style. Bright red lips, wild hairstyles and sexy heels are the name of her game. In an effort to share her style with fans, Nadia G. designed a variety of items for the Bitchin' Boutique. For the kitchen vixen, she offers zebra and leopard print aprons with matching garters, a guitar shaped spatula, hot pink diva dish gloves and rockin' Bitchin' Kitchen tees. As Nadia G. says "It's all about making cooking fun, and inspiring a new generation to rock their kitchen!"
Just Bitchin'
When not racking up the accolades and awards such as nextMedia's Interactive award for the 'Hottest Emerging Digital Brand in Canada,' or the 2007 Wave Award for favorite mobile comedy series (she beat out Conan O'Brien!),  Montreal-native Nadia G. enjoys writing comedy songs and working on her rock solid abs.
For more information visit her website: http://bitchinlifestyle.tv
Also contact The Brooks Group at 212-768-0860 or tweet @BrooksGroupPR
---
An Interview with Nadia Giosia, by Loraine Pavich

Where in Italy does your family come from?

My mother comes from Torrice, which is in the Frosinone Province.  My dad comes from Guglionesi Campobasso, which is in Southern Italy.

Do you speak Italian?

Si Si.  It was my first language as a kid.  I don't get to practice it as much as I'd like to anymore.  I used to speak it to my grandparents.  Through the years they passed.  However, it is like riding a bicycle, you never forget it.

How has your upbringing influenced your show?

Food is so much more than food.  Growing up in an Italian family the kitchen was where we had our best conversations and  our biggest laughs. We came alive.  Although eating was an extremely important part, so was the development of everything else.  We do the same thing in Bitchin' Kitchen.  There is no subject that is taboo. We have a couple of laughs at what life throws our away and we eat a great meal while we're at it.  I can say I grew up in a crazy comedy cooking show.  That is what I wanted to share with everyone.

What do you like to do in the summer?

I love hanging out on outdoor terraces.  In Montreal we have such long and terrible cold winters.  When it starts to get nice out, the city goes through such a transformation.  It comes alive.  Everyone is out and about and having glasses of wine and riding their bicycles.  We really take advantage of the little summer time we have.

You love to wear very high heels. What are some of your favorite shoe designers?

There are so many, but I love Louboutin and Dolce and Gabbana.  They are fun, sexy and very feminine.

If you can cook an Italian feast for the President of the United States and his family what would  you make?

I am sure the President has eaten fancy pants meals the world over.  It would be nice to cook a meal that is really home-style.  I would make a pasta fagioli, chicken cutlet sandwiches and nice wood oven pizzas  I would have fun with the more rustic stuff.

If you had a no holds barred food day and could eat whatever you want for breakfast, lunch, dinner and dessert,  what would it be?

Most people think I only eat Italian food.  I just love a traditional American breakfast.  Breakfast would be eggs over easy with bacon smothered in maple syrup and hash browns drowned in ketchup. Lunch I would have buttermilk marinated crispy greasy fried chicken.  For dinner I'd have a foie gras terrine with some onion fig jam on some crostini and some baby back ribs with a spicy barbeque sauce.  For dessert I would have a chocolate soufflé with a homemade banana ice cream.

What is your favorite Italian cold cut?

Ooooh that's a tough one.  So many of them are so delicious.  I love a real Salame di Genoa.  It is amazing what some people will call Salame di Genoa.  For me it has to be nice and red with good distinct fat.  I also love a spicy sopressta.

When you were a little girl what did you think you would be doing when you grew up?

I went through different stages.  I have always loved music.  I kind of always wanted to be an entertainer.  I had one of those Casio electric keyboards that came with pre-programmed cheesy songs.  I would invent lyrics and sing and perform for my family and friends. When I was ten years old I wrote a full on horror movie and I got all my girlfriends to act in it.  I even designed all the costumes for all the girls.  Sadly I lost the film footage, but my parents still have the script.  When I was a teenager I was still obsessed with being a rock star.

What do you think is the best meal you ever cooked?

There are a lot of them.  There are a couple of things that are milestones in cooking.  One of them I would say is definitely knowing how to make your own brodo from scratch (broth).  Whenever you're feeling sick,  or you're trying to lock down a mate,  and they are feeling sick you make them some homemade chicken soup.  It's all over after that.  There is no escaping for the person (laughs).  I am really good at making pasta and sauces.  I spent many years learning how to make a basic tomato sauce.  As simple as it may sound it, is not so simple.  Many people over cook the sauce.  I never went to cooking school and learned from the women in my family.

What do you always have in your fridge?

Let me take a look. There are a couple of staples.  I definitely have a Parmigiano Reggiano.  I always have an all natural good maple syrup.  It adds a little bit of flavor and the sweetness and it is healthier.  I use it in my sauces and stews.

What does it take to make you look and feel good?

I have never been totally out of shape. I definitely didn't work out for many years. I was always working in front of the computer. When my show launched in Canada last year I got a call from ET Canada inviting me to do a big cook off in Mexico.  When I heard the word ET and Mexico I knew they were going to get me in a bikini.  I was the only girl part of this cook off,  so of course I am thinking they are going to want to do an interview with me on the beach. That of course put a fire under my (bleep).  I thought national television, bikini, now its time for a personal trainer.  I hired a personal trainer.  You can get a trainer for really inexpensive if you do some research. The trainer I found was about $20.00 a session. I started to work out and had some really good results so I just stuck with it.  I now feel good in my skin.  I also started to eat really well and that makes me feel great.

Do you have any special skin or beauty regime?

I am not fanatical about it.  I found a great aesthetician here in Montreal.  I go and see her every couple of months.  I do nothing too crazy.  I will do a mud mask and exfoliate and use a good cream.

What is your favorite restaurant in New York?

I went to the Spotted Pig.  I had the most amazing out of this world gnudi they serve there.  They are light ricotta pasta like dumplings made with brown butter and a grating of parmesan.

Who is the person you admire most?

My mother. She always was and still is so supportive. There were times she would tell me to stop making those stupid videos and get a real job,  but she was still behind me.  She  knew that is what I loved to do.  I love her very much. In terms of celebrities, I find Chelsea Handler very funny, real and super entertaining.  I have read all of her books.

Have you ever been in love?

Everyday I thank my lucky stars I met my true love…. chocolate.
---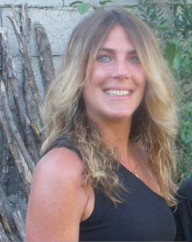 Loraine Pavich has had a diverse career in publishing with several successful magazines.