A busy life of loving Tuscany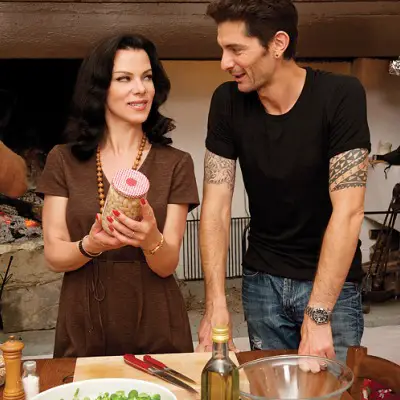 OCTOBER 2012 – Born in Florence, Italy, Gabriele Corcos  was raised in the Olive Country of Fiesole. Gabriele began his love of cooking at a very early age, has not stopped cooking since. He has an insatiable fascination with food, a love for organic ingredients, and foremost a determination to feed his wife and children in the healthiest and most natural way he knows…the Tuscan Way.  
Married in 2002 to actress Debi Mazar (Goodfellas and Entourage), they live in Los Angeles, New York and Italy with their daughters Evelina and Giulia.
In 2007, Debi and Gabriele launched the popular online cooking series Under the Tuscan Gun, dedicated to fresh, authentic Tuscan cooking.
His Cooking Channel show, Extra Virgin, invites viewers into his family's home, where Gabriele and his wife Debi, share their passion for food and each other.  She's a modern girl from Queens, and he's a food purist from the hills of Tuscany. With their two young daughters, they have a home life that is pleasantly chaotic and filled with only home cooked Tuscan meals.
Wednesdays at 9:30pm ET on The Cooking Channel
For more info visit: www.cookingchanneltv.com/extra-virgin/index.html
Visit Gabriele's website: Under The Tuscan Gun
---
An Exclusive Interview with Gabriele Corcos

 Did any of your family growing up influence your style of cooking?

I am the result of my grandmother and mother's kitchen. That's where I learned all the basics, where I started to bake and hand roll fresh pasta. My father on the other side taught me how to cook on the fire. My brother is the first person I have ever cooked for.

How do you see Italian food being cooked differently here in America from how it is done in Italy?

America is the land of abundance, and you can often see it happening on Italian dishes. Loading a plate with many ingredients, even if they are fresh is not always the way. Simplicity is what differentiate Italian cooking from Italian American cooking. However there are great Italian restaurants opening every year across the States… Beware: Olive Garden is NOT Italian, and every time you see a product in your grocery store that says "Tuscan" or "Italian" you should shy away from it… it is just marketing!

What food or dish do you most enjoy cooking?

Pasta, always. Any sauce… it is my go to comfort food.

Do your daughters enjoy cooking?

My youngest one, Giuliia is my little sous chef at home, she chops and cleans and is always game to help, even if I am working with ingredients she does not like. My oldest daughter Evelina has a great palate, she tries everything without fear and drops great comments about anything she eats, she is very articulate that way. But she does not help me!

You've lived in LA for some time…and we heard recently moved to Brooklyn.  Do you have a favorite Italian restaurant in LA and NYC?

My very favorite in LA is Angelini Osteria on Beverly Boulevard, in NYC for the moment my favorites are Bar Pitti and Osteria Morini.

What do you miss most about Italy when you are not there?

The country and my farm. The quiet and the slow pace, the fact that in Italy you can be happy with less!

You and Debi really love wine…are there any favorites you feel you can pair with just about anything?

Red wine is our preferred choice. Chianti obviously but also some new Super Tuscans are always in our house. Tignanello, Soffocone, Testa Matta, Borro… are some of our favorites.

You have your own olive estate as well and are working on some olive oil health and beauty products…how is that going?

One of the reasons why we moved to NYC, we are ready to press the button, we are just trying to connect with a few more people before we start importing. The Olive Oil will arrive before the products… hopefully we will get it together for this winter.

We know you're a musician as well…do you still perform?

Nah, unfortunately I am way too busy for it. All good though, even if I miss music a lot, cooking is a very creative process and it keeps me happy! Also my ego is very happy these days… I used to play drums and always performed behind singers etc… now I AM the chef, and the spotlight is on me. I like it!

You and Debi certainly have been keeping busy. Any other projects in the works or things you would like to accomplish?

We are shopping our book right now, there is a lot of interest. I started consulting for restaurant and hotels, and it is a lot of fun. Dream gig would be to open a small Hotel with cooking school in Tuscany… one day!

Thank you Gabriele for taking the time to chat with us.  We wish you much success with all your projects and dreams becoming reality!