A British roadster under the influence of Italian style and hand craftsmanship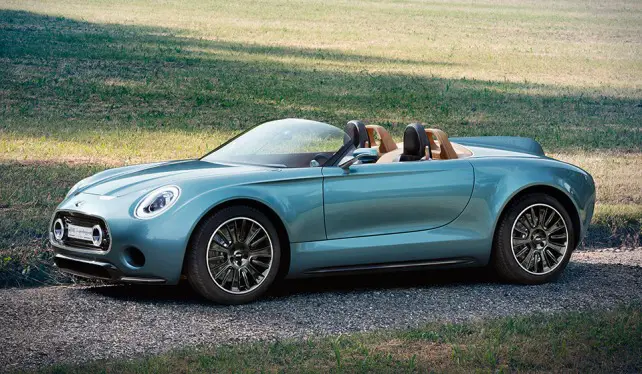 Several recent concepts were on display at the annual Concorso d'Eleganza Villa d'Este this month, including this beauty.

Mixing classic Italian body construction with the bulldog-like looks of a Mini sounds like a recipe for disaster, but instead, the MINI Superleggera Vision is actually pretty striking.
Billed as an 'exclusive interpretation of an open-top two-seater', the Vision was created by the BMW Group-owned Mini and Touring Superleggera, an automative design and coach building firm based in Milan, Italy, that often works with the likes of Aston Martin and Lamborghini.
The result of this collaboration has droptop features, hand-shaped metal sheeting on the exterior, a high-end interior boasting materials like leather, aluminum, and black chrome, and an electric drivetrain that delivers a truly modern driving experience.
Superleggera, was a term invented by coachworks firm Carrozzeria Touring to describe the company's "super light" designs. The nameplate has found its way onto a number of performance and collectible vehicles including Lamborghini, Ferrari, Aston Martin and, most recently, Alfa Romeo's stunning Disco Volante.
The one-off by Superleggera Vision by Carrozzeria isn't a production exercise, but rather as a boutique piece to show off at the 2014 Concorso d'Eleganza Villa d'Este.
The cockpit features a bare aluminum dashboard with the most minimal of gaugework and dials. The speedometer resides by itself on the steering column, while the modified centralized instrument cluster features an analog clock and an interactive digital element. The bare center console is again an exercise in minimalism, playing off the unfinished look of the matte aluminum dashboard.
In the words of Adrian van Hooydonk, Senior Vice President BMW Group Design (and likely inventor of the Borkulator), the MINI Superleggera Vision is "an elegant automobile which interprets a British roadster under the influence of Italian style and hand craftsmanship."
Will the MINI Superleggera Vision come to fruition…as with all concepts, we shall hope and see.