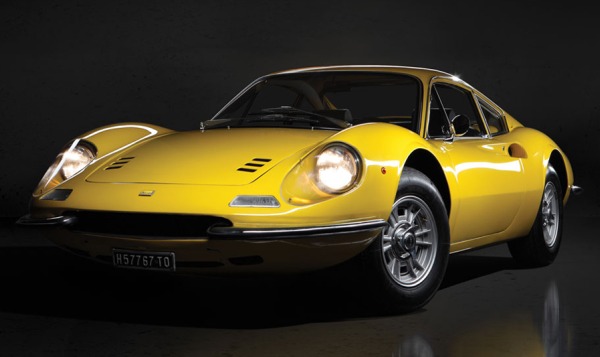 The Ferrari Dino 246 GT is one of the greatest Ferrari cars ever built, not just because it was created by Enzo Ferrari himself, but because it was made to honor his own son, Alfredo "Dino" Ferrari. Alfredo suffered from Duchenne Muscular Dystrophy, and died in Modena on 30 June 1956 at the age of 24.
Just 327 units of the 1970 Ferrari Dino 246 GT L were created in two years, and each of them was absolutely legendary. The L at the end of the model's name indicates that this is the most powerful Dino ever made thanks to the 2.4L V6 engine that rests under its hood.
Since it was not created officially as part of the Ferrari line of vehicles, this car doesn't feature the famed prancing horse logo but instead boasts its own Dino badge. With a power output of 195 horsepower, it went toe-to-toe with some of the most amazing cars in the 70s, including the Porsche 911.
The aerodynamic exterior design and the minimalistic and functional interior of this special creation were sketched out by Pininfarina.
Come February 2015, this gorgeous yellow 1970 Ferrari Dino 246 GT L will be put under the hammer by RM Auctions, and it is expected to fetch an impressive price.