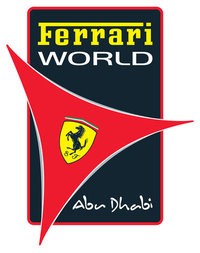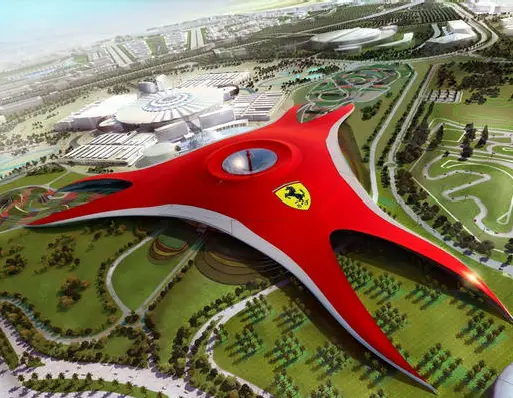 Ferrari World Abu Dhabi pays tribute to the passion, excellence, performance and technical innovation that Ferrari has established over the years and represents today. Step past the main gates into an intense multi-sensory experience celebrating all things Ferrari. Fans, families and racing fanatics alike, will experience the race, the culture, the indulgence and history like no one has before.
The world's first Ferrari theme park will host over 20 state-of-the-art attractions, each designed to bring various facets of the Ferrari story to life. You'll see Maranello from Enzo's eyes, feel the rush of speed as the G-force takes over, or learn from the legends themselves in the factory or at the pit stop. It's not just a park but an immersive experience that will spark the Ferrari spirit inside you.

Featured attractions include:
• Formula Rossa, the world's fastest rollercoaster, reaching speeds of up to 240 km/h, emulating the feeling of being in a Ferrari F1 car
• G-force experience taking passengers on an adrenaline-pumping ride up over 62m, through the roof and back down again
• State-of-the-art racing simulators as those used by the Ferrari racing team
• Flume ride journey through the heart of a Ferrari 599 engine
• Driving and Racing school for junior drivers, with expert training
• Aerial voyage over Italy following a Ferrari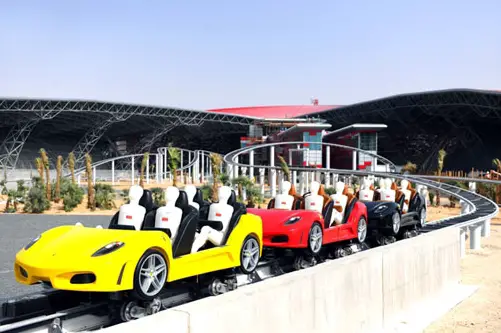 Dining, Shopping, Entertainment – it's all covered!
From sumptuous dining to quick-service, or relaxing with the perfect espresso, there's something for every palate. Enjoy a vast range of dining and beverage throughout the park, offering Italian inspired delicacies as well as a variety of international dishes.
A Dash of Italy
It's a tradition of foods and flavors capable of resisting changes and trends. You'll find a rich heritage of gastronomic culture and simple fresh flavors that Italy is famous for, and for good reason.
For more information visit their website at Ferrari World Abu Dhabi
Grand Opening October 27, 2010
Ferrari World Abu Dhabi is the result of a partnership between Ferrari and Aldar Properties PJSC, Abu Dhabi's leading property development, management and investment company. To learn more about Ferrari and Aldar Properties PJSC please visit Ferrari.com and Aldar.com