Personality is main ingredient to the success of Laura Vitale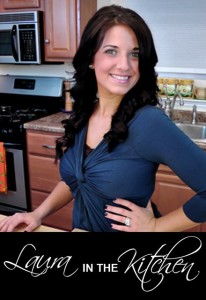 If you've been following us for awhile, you know that over the past several years we've been sharing with you some entertaining and educational cooking by Laura Vitale. Laura is a self-taught 29-year-old culinary personality and star of her own popular Web series – Laura in the Kitchen.
Laura is a native of Naples, Italy, and has been living in south Jersey since age 12. She started working as a chef in her father's restaurant in her teens, but after closing during the economic downturn in 2008, Laura found herself looking for what to do next. Her husband Joe then had what was to become a brilliant idea. He built her a kitchen studio in the basement of their New Jersey home, and in 2010 they started filming her Internet cooking show, Laura in the Kitchen.
With Laura's warm, bubbly, full of energy and often humorous personality, good looks and knack for an easy way of teaching Italian cooking… and just cooking in general – Laura has gained over 2.2 million subscribers on her YouTube channel. With numbers like those, you must be doing something right… and be gaining the attention of those in the foodie/entertainment industry. So much so that the series' viral success landed her a Cooking Channel show in the fall of 2014 simply called, Simply Laura.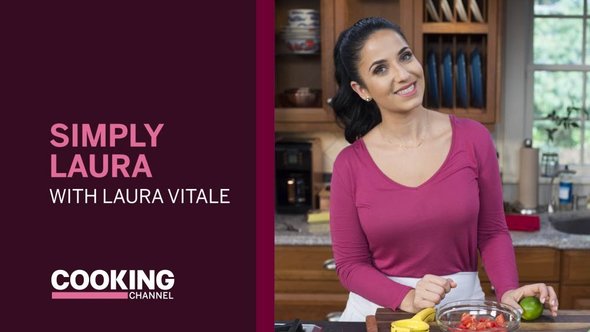 Now in its second season, you can catch Simply Laura on the Cooking Channel Saturdays at 11:30am ET. Fans can also join Laura online at CookingChannelTV.com/SimplyLaura for exclusive videos featuring her lifestyle tips and they can also access recipes from the show. To connect to the conversation on Twitter use #SimplyLaura.
As described by Cooking Channel, "Web sensation and online superstar Laura Vitale brings her take on American mealtimes to television. Although Laura's roots are in Italian food, she is first and foremost an all-American girl. With an emphasis on seasonal and simple, Laura's blend of easy but enticing recipes and girl-next-door charm will make for meals that America will adore."
While we at Italia Living have contributing writers in New York as well as through out Italy, I happen to live in central New Jersey on the Jersey Shore… in close proximity to the beach, as well as some of the Garden States best farmlands. So Laura's appeal especially hits home to us Italian Jerseyans. On Simply Laura, her cooking goes beyond Italian food, but the ideology remains… use fresh seasonal ingredients and let the natural flavors prevail!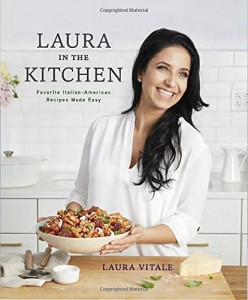 Laura also recently released her debut cookbook: Laura in the Kitchen – Favorite Italian-American Recipes Made Easy.
With so many food reality and food travel shows these days, it's great to see a new actual cooking show. One that is far from bland in terms of cooking up easy dishes full of flavor and delivered to you in a way that is relatable. Having a most likeable personality in front of the camera is the secret ingredient to Laura's recipe for success.
Laura has been on the rise since coming out of her basement… and there is no stopping her now.
Follow Laura Vitale at:
http://cookingchanneltv.com/SimplyLaura
https://www.youtube.com/user/LauraVitalesKitchen/
http://www.laurainthekitchen.com/
https://www.facebook.com/laurainthekitchen
https://twitter.com/LaurasKitchen
A few years back, we were honored to have a little plug done by Laura for Italia Living…