Italian menswear brands poised to capture a piece of the pie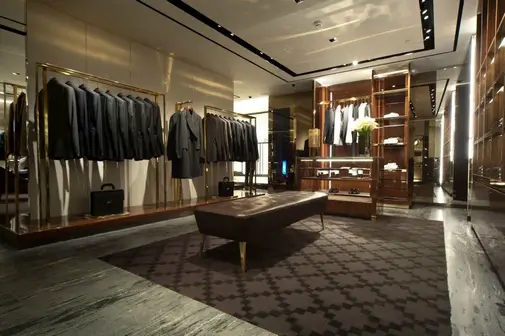 JUNE 2013 –
According to a recent report by consulting firm Mintel, global luxury menswear sales in 2016 will reach $18,036 billion USD compared to the $15,971 billion USD in 2012.
Major Italian luxury fashion houses such as Prada, Armani, Loro Piana, Gucci and Dolce & Gabbana are pursuing development of men's only stores both in mature and emerging markets.
The most recent inauguration is Dolce & Gabbana's second men's only flagship store in London on New Bond Street, following the already operational men's only store on Milan's Corso Venezia.
Gucci is opening by the end of this month its largest men's only store in Milan's Brera district – a store which will feature a tailoring corner in collaboration with Lapo Elkann as well as an Americano bar. The store will also include made-to-measure service and a full range of men's products from ready to wear, shoes, bags, eyewear, jewellery, watches etc.
Prada will open this summer in Milan its brand new men's only store in Galleria Vittorio Emmanuele – the first phase of the 5.000 sqm mega-store which the brand is planning to be fully open by the end of the year. The new Prada store will coincide with the re-opening of the refurbished men's store on Via Montenapoleone.
The Italian luxury house of Loro Piana is opening this Fall its new flagship store in Milan, at 27 Via Montenapoleone. The new Loro Piana flagship will spread over three floors and will feature the entire range of products for men and women – ready to wear, accessories, shoes, bags etc.
Earlier this month, Giorgio Armani inaugurated its new store in Rome, at 77-79 Via Condotti, a 900 sqm space on three floors, featuring an entire range of Armani collections.
In April, Venice had given permission for one of its most famous buildings on the Grand Canal, The Fondaco dei Tedeschi, a 13th century palazzo, to be converted into a Benetton 'megastore'.
Somewhat less known and smaller menswear brands such as Gagliardi and Etrusca continue to see their brands grow as well, putting focus beyond brick and mortar storefronts through online visibility and sales – a quickly growing segment.
It comes down to this, if your luxury menswear brand produces a product of high quality with a solid reputation, and exceptional customer service is provided – now is your time to grab a share in the growth of this highly anticipated global luxury menswear market.