Featuring a traditional timeless look with a rich penchant for colour and sophistication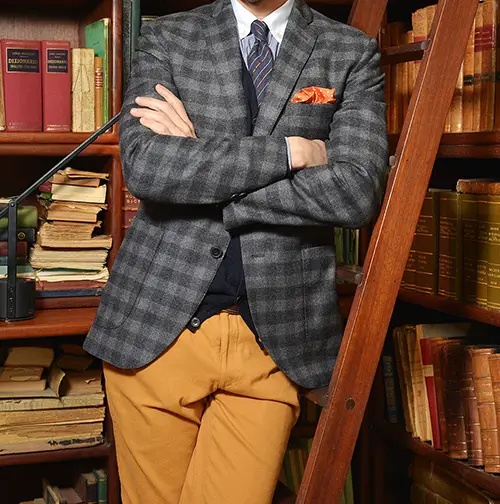 This season the Gagliardi Autumn/Winter collection epitomises warm wintery textures, crisp silhouettes and the usual attention to elegant sartorial detail. The collection embodies Gagliardi's distinctly Mediterranean flair, whilst drawing inspiration from the 1960's Cortina Vintage Ski.
Quintessentially, this winter's offerings' colour palette includes Bordeaux wines, winter whites, mustards, icy blues, smoky greys as well as autumnal hues of forest green and rusty orange. The pieces are in an increasingly popular and much sought after slim fit, as well as the more traditional contemporary fits.
Fabrics include mixtures of wool – warm wool handles, brushed cotton and wool-cotton mixes. The range uses a number of pre-washed outfits, not only on shirts, but also on jackets and trousers which provide a softer, more relaxed feel. Suede elbow patches, pocket jets and cuff tabs are a fine example of the use of texture and styling details to provide the perfect garment for the winter season.
Gagliardi AW13 welcomes the introduction of knitwear into the collection. A season appropriate colour palette in cable knits, V necks, crew necks and tanks gives you ample choice to choose from when layering your look. Fellow newcomers are washed cords, quilted jackets and the innovative cotton 'wax coat' inspired jacket. Tailoring designs also include washed cottons, denim look jackets, brown herringbones, tweed over checks and Donegal look jackets with a Bouclé yarn effect.
All pieces feature a traditional yet timeless look, underlined by creative layering with a rich penchant for colour and sophistication. Overall, the new AW13 collection maintains the much sought after Gagliardi handwriting with subtle touches, often hidden to the eye but for the pleasure of the wearer.
The collection is available online on www.gagliardi.eu