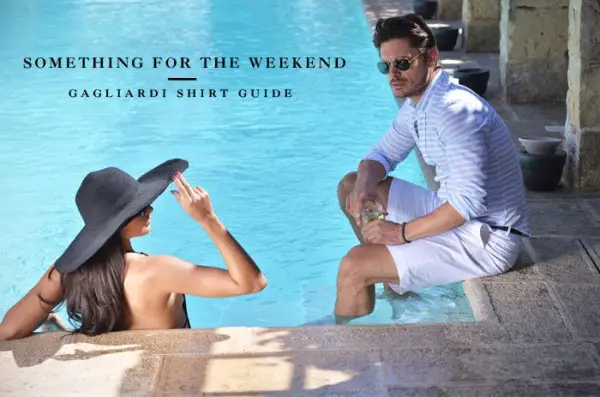 It would be considered a faux pas to do away with shirts just because it's the weekend or a bank holiday. Even if you've been wearing a shirt every single working day of the week, the weekend shirt is a totally different character from that stiff-necked affair sitting on your back from Monday through to Friday.
Polka dot print garments are a hallmark in men's spring summer 2014 fashion collections and are currently a designer favourite over other summer prints. Polka dot shirts are a dress-down option that make gentlemen look cool yet collected.
Check shirts are traditionally loved and relied upon by most men, whatever their age. Wear check shirts such as gingham to the beach or the bar, however it is not advisable for them to be worn to any formal event if the designs are particularly stout or loud. Minute and delicately coloured check designs manage to get away with murder, especially in the company of a bow tie. Grandad collar shirts are the shirts for easy-going occasions and when these are made of breathable linen fabric you can expect maximum cool and comfort.
Regardless of figure, choosing a shirt to suit is simple yet paramount. Slim-fit shirts are not for the slender-only and it is wise to size up from tailored-fit sizes to accommodate your frame (after verifying with size guides).
And remember – weekend shirts do not necessarily have to be worn buttoned up or tucked into trousers. Keep them fresh and available for summer-long chill-out Fridays through to Sundays.
Gagliardi was established in 1964 and maintains the founders ideology to this day: delivering high quality, affordable menswear with an unmistakable Mediterranean flair.
Visit their website at www.gagliardi.eu