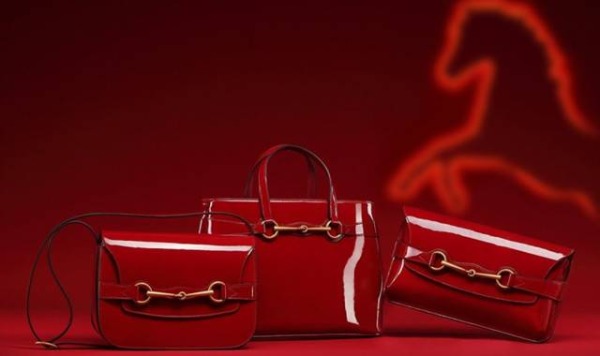 Gucci has been synonymous to the equestrian tradition, thus, the Italian brand has picked the perfect chance to honor the Chinese new year with its riding heritage that has inspired the house for over 90 years.
The year of Snake will slither away as the year of Horse sets in on January 31, 2014. Gucci has been riding high with its signature horse bit feature and it's the best time to race ahead with a China-exclusive collection of Bright Bit bags to pay respect to this year's zodiac animal.
The eye-catching collection comprises of a clutch, a shoulder bag and a handbag, all shaped out of red patent leather. Since they are already renowned for their horse bit hardware, Gucci has steered clear of using any more horsey features.
The emphasis of using only red color also relates to the animal of the year. The bold collection glams up with a touch of gold hardware and stands out to represent success, luck and control.
The Horsebit was introduced as a decorative element on handbags in the 1950s. Designed to recall the horse riding tradition in Florence's high society, it has since evolved into the bold hardware on handbags and shoes, prints on canvas handbags and silks, watches and most recently, fine jewelry.
The horse bit hardware highlights Gucci's long relationship with the world of horses, which has inspired many of the brand's motifs and collections. This version of the extremely popular Bright Bit is a limited edition bag made exclusively for China, and in the logoed interior, the craftsmen have affixed a brass plate bearing the words "China Exclusive."