27 Ferraris to be sold online Saturday, September 26, 2015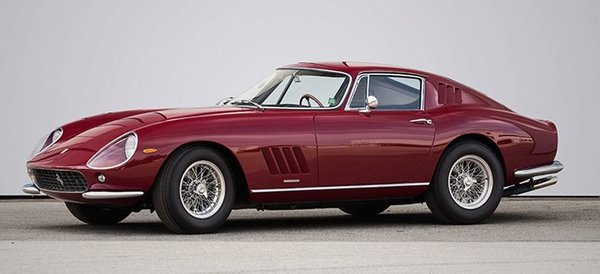 The leading online auction house, Auctionata, is getting ready for another premiere: On Saturday, September 26, 2015 at 6 pm CET, Auctionata will present its first ever "Ferrari Only" auction, in which 27 selected models from the renowned Italian manufacturer, among them a Formula One car from Michael Schumacher, will be offered. In addition to hosting the world's first online auction dedicated exclusively to the iconic sports cars from Maranello, Auctionata is taking its livestream auction technology to the next level. With a split screen broadcast, the auction will be streamed live from two separate locations simultaneously.
One of the outstanding highlights of the auction is a 1965 Ferrari 275 GTB/2 Short Nose. It is one of approximately 240 models produced in the original design of the 275 GTB, with a short nose by old master Battista 'Pinin' Farina. This car is one of Ferrari's absolute icons from the 1960s. It comes in fully restored condition and with the certification of Ferrari Classiche from 2009, which attests the authenticity of chassis, engine, body and transmission. None of these components have been replaced. The body and interior were completely restored by the renowned company AutoSport di Bacchelli e Villa in Bastiglia. The extensive technological overhaul was carried out by the company GipiMotor in Evere, Belgium, a well-known specialist for the 275 GTB and 275 GTB/4 models. The car is painted dark red, which was included in the official Ferrari-color palette from 1964 to 1967. The starting price is €1,200,000.
Another outstanding model in this auction is a Formula One car, driven by the most successful Formula One champion of all time, Michael Schumacher. With this Ferrari F310B, Schumacher won the Japanese Grand Prix in Suzuka, and drove in the legendary final race in Jerez, Spain, in 1997. This remarkable piece of Formula One history will enter the auction with a starting price of €650,000.
Ferrari lovers can also look forward to a 1977 Ferrari 512 BB. In 2010, the car had a mileage of only 4,413 km. Various MOT documents, the original Swiss fume exhaust maintenance booklet, and several invoices prove the mileage in detail. Today, it has a mileage status of 8.680 km. The car was part of a large London collection between 1996 and 2010, and was only driven for about 330 kilometers during this period. Despite the low mileage, all wearing parts were renewed by Keys Motorsport Ltd in 2010, and the engine was completely overhauled. In 2014, the car was painted in its original color 'azzurro metallizzato'. All chrome parts, gaskets, bolts, covers and headlights were renewed or revised, and the car is now in pristine condition. It has a Ferrari Classiche certification and will enter the auction with a starting price of €200,000.
Unique models such as a Sbarro P4, which was exhibited at the Geneva Motor Show in the 1980s, several limited lightweight cars such as a 599 GTO, a 458 Speciale, a Scuderia Spider 16M, and iconic sports cars such as the F40 and F50, will also be offered. In addition to Michael Schumacher's F310B, other racing cars, such as the Ferrari FXX, will be seeking new ownership.
Furthermore, Auctionata is breaking new ground with its auction technology: Through a split screen livestream, the auction will be broadcasted live on www.auctionata.com from two separate locations simultaneously. While the auctioneer will bring down the hammer at Auctionata's Berlin studios, all cars will be presented live from the hangar at Helicopter Travel Munich. As always, the auction is accessible to bidders worldwide and can also be followed live via tablet and the "Auctionata Live" iPhone App.
For this auction, Auctionata has cooperated with Schaltkulisse, the renowned Munich based Ferrari specialists, whose focus is on sports cars and timeless classics. "We are proud to have an experienced partner to support us in the curation of this auction. With their outstanding expertise in the Ferrari market, and their excellent international network, we were able to obtain some highly sought after cars from private collections for this auction", explains Wolfgang Jochum, Head of the Classic Cars Department at Auctionata.
The auction catalogue is available here: https://auctionata.com/intl/s/382/ferrari-only-sept-2015