From Sicily to Torino, we've scoured the country for the best places to sip espresso, enjoy gelato, and soak up the sun in pursuit of la dolce vita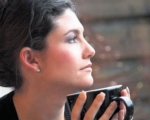 It's been more than 100 years since the first espresso machine was invented by an enterprising Italian named Luigi Bezzera. Since then, espresso has become a way of life for Italians. No true Italian kitchen is without a 'moka' pot and no day in Italy is complete without taking a moment to sip and enjoy one of the finest discoveries the country has ever brought the world.
Whether you're touring Rome for the tenth time or making your first trip through Tuscany, it's impossible to truly experience Italy without spending time in a classic Italian café. Even if espresso isn't your cup of tea, per se, it's worth it just to sit and relax with a homemade treat as you let the Italian sun wash over you.
In the spirit of taking things slow and fully living in those little Italian moments, we've searched the country for the 10 best cafes to truly experience la dolce vita. Here they are in no particular order. Sit. Sip. Enjoy. Ciao, bella!
The Top Ten Cafes to truly experience Italy
1. Il Caffe di Sant'Eustachio, Rome – This 70-year old landmark is located in the heart of Rome's historic district and remains much the way it was when it got its start back in the 1930's. With outdoor tables that face an open piazza, this is the place we all imagine when we fantasize about whiling away the hours on a gorgeous Roman day. The café's specialties include a signature blend espresso with a secret recipe known only to the café's owners.
2. Caffe Quadri, Venice – With an enviable view of St. Mark's Square creating the perfect backdrop, this is without a doubt, the quintessential Venetian café. Best enjoyed at night when the tourists are back in their hotels and the pigeons are tucked in their nests, Caffe Quadri's personal orchestra lulls late-night coffee sippers into a romantic end to the day. Come for the atmosphere and stay for the history – this place has been entertaining coffee drinkers since the late 1600's and hasn't changed much since then.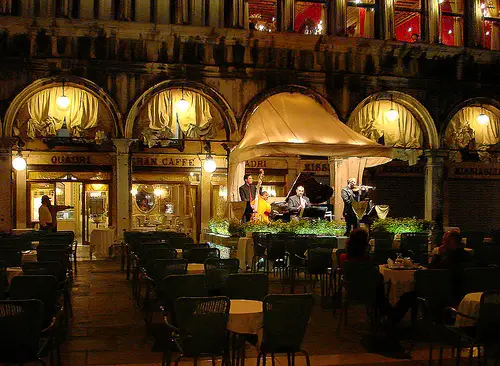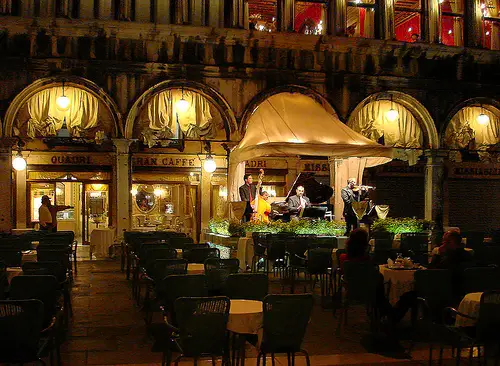 3. Bar Pasticerria La Zagara, Positano – Create your own Under the Tuscan Sun moment in this idyllic cafe situated on one of Positano's legendary cliffs. A canopy of creeping vines and flowers shield tourists and locals alike as they sip limoncellos and iced coffees. Enjoy the view of the Gulf of Salerno and order up some gelato to you cool down from a day of sunbathing.
4. Caffe al Bicerin, Torino – From one of the hottest spots on our list to the coolest, this landmark specializes in a mixture of espresso, hot chocolate, and cream that shares the café's name. The Bicerin, both the drink and the cafe, has been warming up its Alpine customers since 1763. Other pastries and spicy hot drinks help round out their menu all year long.
5. Kursaal Kalhesa, Palermo – Built into one of the city's ancient walls, Palermo's thriving youth scene helps make this unique cafe a must see on any trip through Sicily. The ambiance is eclectic with hundred-foot high ceilings, a built-in library, and a lush courtyard. Stop in to enjoy Sicilian cuisine with a Middle Eastern touch or to see a local band perform.
6. Giolitti, Rome – Located on the Uffici Del Vicario, just up from the Pantheon, Giolitti isn't technically a cafe, but no trip to Italy would be complete without gelato. And if you're going to try it, you might as well have it here in the city's oldest gelato shop. Open at 7 a.m. daily, coffee buffs will enjoy kicking off their morning with a combination of their caffe flavor and the sumptuous gianduia (chocolate hazelnut).
7. Cafe Le Logge, Chianti region – If you want to feel at home far from home, look no further than this quaint cafe an hour south of Florence in the town of Greve. Freshly prepared cappuccinos and jelly-filled croissants help every customer feel they're being treated like family. Start your day here with breakfast or come back after sundown to enjoy vino from the cafe's personal wine cellar.
8. Bar Cafe Rossi, Lake Como – An Art Nouveau setting featuring intricately carved cabinets and tile work feel right at home here in an arcade just off the town's square. Bar Cafe Rossi is all about taking it slow and truly experiencing Bellagio. Homemade pastries, coffee, and sandwiches make it a good place for a long afternoon meal.
9. Café Viarenna, Milan – The perfect place to plot your next fashionable day in Milan, or finish up the day before. The café is famous locally for its croissants, but other house specialties include cold pastas, aperitifs, and beautifully displayed desserts. Its location on the Corso di Porta Ticinese also makes it a great spot for people watching.
10. Caffetteria Bellavia, Naples – Last, but absolutely not least, is this centrally located café just off of the Piazza Amedeo. A welcome respite from fast-paced Naples, this place has made a name for itself with its specialty coffees and liqueurs. Homemade chocolates and a décor that's been wrought from precious materials give it a special touch.
---
Article courtesy of The Coffee Couple – Can't wait for your next trip to taste some world class espresso? Click on the links to find new espresso machines like the Vev Vigano and the Breville Roma.
---