Housed in hotel La Sirenuse, La Sponda thrives on stunning views and exceptional regional foods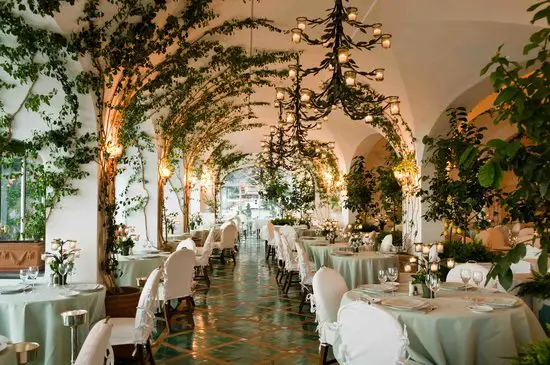 On a stunning hillside in Positano, Italy, La Sponda at La Sirenuse exudes romance with its breathtaking views, gorgeous atmosphere, and delectable cuisine.
The lovely Hotel Le Sirenuse stands out among the crowds of Positano's pastel villas. A deep ruby-red color edged in white presents an elegant facade. Originally a summer home for the Neapolitan Sersale family, they converted it into a 58 room luxury hotel in 1951.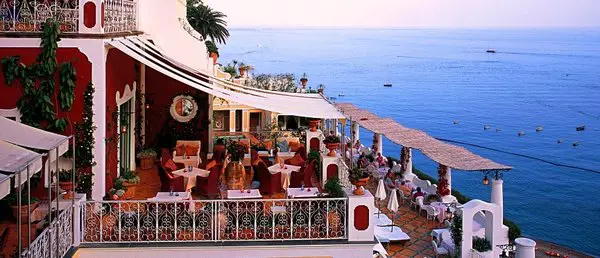 A Michelin-starred restaurant, La Sponda offers beautiful dining arrangements that are further enhanced at night with the soft glow of 400 candles, creating an environment that is best described as 'dreamy.' Specializing in Neapolitan cuisine, La Sponda's culinary offerings feature nothing but the best of the local bounty.
Matteo Temperini is a young chef from Tuscany, born in Poggibonsi, Florence in 1974. Chef Temperini uses modern techniques to interpret local traditions, but his food (imperial prawns with lemon marmalade; risotto with courgette pesto and tuna roe) is never fussy, and the flavours are clean. Add a weighty wine list and exquisite service, and La Sponda is a dining must when visiting Positano.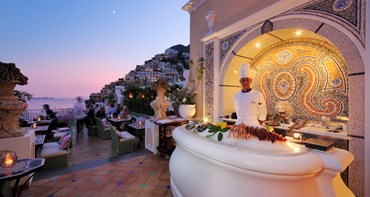 Situated on a gorgeous terrace with breathtaking views over Positano, the Champagne & Oyster Bar is an idyllic place to meet for an aperitif or a light dinner. In the evenings from mid-May to October, guests can sip on a glass of champagne or a cocktail, and select from fresh oysters, shellfish, raw fish and other delicacies.
Between the breath taking sweeping views of the sea and city lights twinkling below, and mandolin music floating in the background while enjoying culinary delicacies and exceptional wines – you are guaranteed to have an unforgettable romantic evening at La Sponda.
Visit their website at: http://sirenuse.it/en/restaurants-bars