Hotel Raffaello Roma – Steps away from the Colosseum while providing a peaceful elegance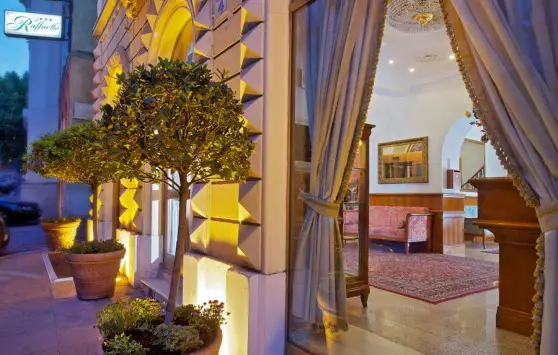 No doubt, Easter is one of the best periods of the year to visit Italy and Rome above all.
Even if you are not such interested in religious ceremonies, you cannot help to be touched from being right in the cradle of Christianity.
Every year, during the Week of Easter, Rome welcomes worshippers from all over the world and enchants them with a ritual which keeps repeating after two thousand years.
Hundreds of thousands of pilgrims are expected to reach St. Peter for Easter Mass solemn celebration. At the end, new Pope Francis will bless "Urbi et Orbi", that is the wording adopted to indicate "the city of Rome and the whole world."
Good Friday, you can attend Via Crucis in every city in Italy, but only in Rome is the procession at the Colosseum set as such scenery: a global event, broadcasted in 60 countries and translated into seven languages.
But Christian liturgy is just one aspect of Easter. On the other side, an ancient pagan tradition claims this holiday to celebrate Spring coming back and natures renewal.
On Sunday, after a rich Easter Lunch, Italians use to honor springtime inception and its pleasant temperatures by strolling among villas and gardens dispersed in the city.
To visit Rome on foot, especially at Easter, when tourists flux is stronger than ever, it is important to choose a hotel in a central location, allowing to quickly reach the most important monuments of historical and artistic interest.
Because there is not luxury at all, if the path to the beauty is uncomfortable – Hotel Raffaello, right in the centre of Rome, just a few minutes from Termini Station, is an ideal base to visit Imperial Rome's remains, such as the Colosseum and the Roman Forum.
If you prefer to get astonished by Baroque Art, just few steps away you can find the church of Santa Maria Maggiore.
Located in the characteristic Monti district, Raffaello Hotel is perfect to feel Rome in its more beautiful side, away from traffic.
The Hotel Raffaello Roma stands out for luxury services offered to its customers. A Personal Concierge is in fact available to customers all the time, so to help them better organize their visit to Rome and the original 'Treatment sweet dreams' provides the best rest to each guest, offering them to choose the pillow that best suits their needs.
For further information:
Website: Hotel Raffaello
Via Urbana, 3/5 – 00184 Roma
Tel. +39 064884342 Fax + 39 064744905