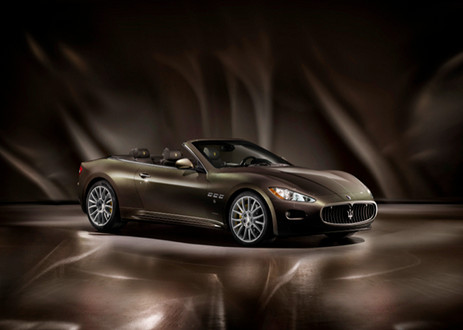 Maserati said August 23 that it will debut the Maserati GranCabrio Fendi, a special edition of the 4.7-liter V8 GranCabrio designed with legendary Italian designer Silvia Venturini Fendi. The masterpiece of technology and craftsmanship, will be introduced at the Frankfurt Motor Show in September 2011.
The Maserati GranCabrio Fendi is crafted in the historical Maserati headquarters in Modena, with exclusive materials bespokely created in various colours for this project.
The model uses a dark grey body color with a golden finish named Grigio Flamma Fendi and features the exclusive Pergamena Fendi wood trim interior finish, along with Fendi yellow trim and the brand's F-logo stitched onto the seats.
Cuoio Romano, Fendi's leather of its Selleria line, has been used for the instrument cluster cover, for the gear lever and for the profile of the floor mats. It also features in the Limited Edition Travel Set of luggage and accessories. A special black car cover with ton-sur-ton double F logo dresses the Maserati GranCabrio Fendi.
A silver oval plaque with the engraving of the Maserati Trident, Fendi logo and the 5-digit series number (five being an iconic number for Fendi) is located on the dashboard, in front of the passenger seat, and on both sides of the black cloth folding roof.