The perfect blend of luxury, elegance, performance, and four-passenger seating only Maserati can deliver.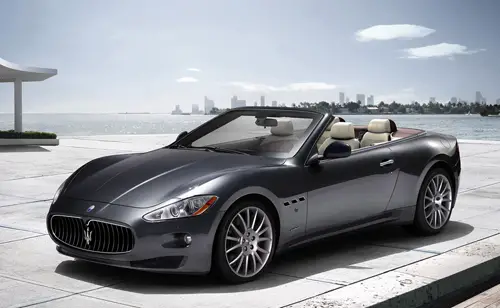 The Italian automaker Maserati, has released its first convertible since the 2006 model year, the GranTurismo Convertible, which will go on sale in the U.S. spring 2010.
The new Maserati GranTurismo Convertible is the latest interpretation on the driving pleasure, exclusivity and versatility that has always characterized Maserati vehicles. The first ever soft-top convertible to be developed and built at the company's Modena, Italy headquarters, the GranTurismo Convertible is the only drop-top in its class to seat four adults in full comfort in a uniquely designed cabin that delivers leading style and luxury.
The GranTurismo Convertible transforms easily from a high-performance coupé into a breathtaking cabriolet. When travelling up to 20 mph the fully-insulated soft-top – designed in true Maserati tradition – tucks away at the touch of a button in just 24 seconds. With the roof down, the GranTurismo Convertible shows off its stunning profile, the result of artful design from the master coachbuilder Pininfarina. The sensation of power and driving dynamics on the road is achieved through the standard light alloy 20" Maserati birdcage design wheels.
The GranTurismo Convertible's chassis was developed by Maserati engineers to deliver top performance and maximum driving pleasure. The V-8 engine is capable of 433 HP and is combined with a six-speed ZF automatic transmission that ensures smooth and precise gear shifts without limiting shifting performance at top engine speeds up to 7,600 rpm.
The Skyhook electronic suspension system is another feature that enhances the GranTurismo Convertible's handling performance. It comes as standard and can instantly adapt to the driver's style and the road conditions via automatic variable damping system.
All this, and the hallmark sound of Maserati makes the GranTurismo Convertible the most exciting and versatile cabriolet on the market; a unique car that offers an infinite range of personalized choices thanks to a practically limitless range of leather, bodywork and roof color combinations. The GranTurismo Convertible is the art of open-air performance.
The GranTurismo Convertible won't be the fastest big-dollar convertible you can buy. On the other hand – it's no slouch in comparison either, and it may be the sexiest to outshine…and will definitely work for a double date.
2011 Maserati GranTurismo Convertible (GranCabrio)
PRICE: $139,700
AVAILABLE: April 2010
LAYOUT: four-passenger, front-engine, rear-drive convertible
DRIVETRAIN: 4.7-liter V8, 433 hp, 361 lb-ft; six-speed torque-converter automatic
WEIGHT: 4,365 lbs.
PERFORMANCE: 0-60 mph, 5.15 sec; 176 mph top speed (mfr)
FUEL ECONOMY: 15 mpg combined (est)
For more information visit MaseratiGranCabrio.com