Poised to compete with German mid-size luxury cars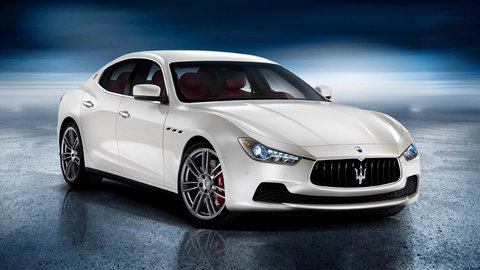 APRIL 10, 2013
Maserati released the first official photos of the four-door 2014 Ghibli sedan, which will be introduced at the 2013 Shanghai Motor Show next week.
Not to be confused with the original Maserati Ghibli — the curvaceous 1960s sports coupe with movie-star good looks, the 2013 reimagining of the car appears to be as a four-door, four-seat executive sedan, though one with a very sporty character.
The Ghibli will be rear-wheel drive like the big Quattroporte sedan, but it will be smaller and sportier, aimed at competing with sport sedans like the Audi A6, BMW 5 Series and Mercedes-Benz E-Class. Perhaps most surprising is that Maserati's new car will be available with a 3-liter turbodiesel V-6 – the first-ever diesel from the luxury performance marque.
And while there's no doubt that Maserati can challenge each of those German vehicles in terms of speed, performance and attention to detail, there's no indication yet if it can compete in terms of price too.
With its entry price most likely starting around $70,000, the Ghibli – the third Maserati to carry that name over the years – will also be available with a 410-horsepower 3-liter gasoline V-6 and optional all-wheel drive. Both the gas and diesel engine options will transmit power through an 8-speed automatic transmission.
Fiat Group's chief executive, Sergio Marchionne said nearly two years ago that his goal for Maserati was to sell 50,000 cars a  year. Maserati said in a news release Monday that the Ghibli figures into its master plan to achieve that number by 2015. Last year, Maserati sold 6,288 cars.
The Ghibli goes on sale in Europe sometime this summer. Expect to see it in North American dealerships sometime after that.