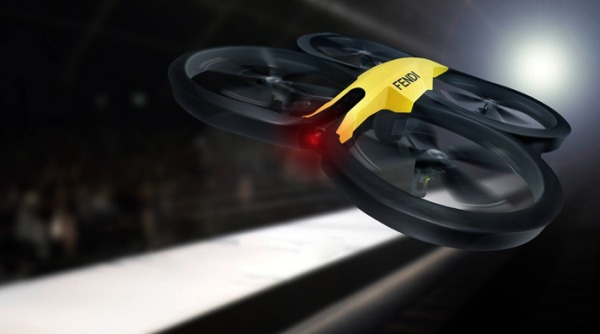 Besides the very latest in fashion…cutting-edge technology will be on display on the Milan Fashion Week catwalk courtesy of Fendi…Flying Drones!
Fendi is going to use high definition drone cameras to live stream their Fendi's Fall 2014 show by flying along the runway and airing the live footage on Fendi.com on 20th February.
During the stream, viewers can opt for the classic view as seen from the front row or settle for aerial shots captured by the Fendi-branded flying drone cams. Also those who fail to watch the footage live will be able to replay the drone footage from the brand's website. Fendi has teamed up with Google to employ the drones powered by Parrot.
Fendi's CEO and President Pietro Beccari beamed about their new feat, 'Fendi's digital strategy resolves to continuously raise the profile of the brand, which has always been synonymous with creativity, quality and innovation. We are enthusiastic to be the first using this technology on the catwalk which will allow us, once again, to be pioneers in our field and projected towards the future.  In addition, we will allow our fans to see our fashion show like no one has ever seen before.'
Log on to Fendi.com on Thursday, February 20 to watch the models as well as the drones in action from a unique perspective.