Mom and baby out in style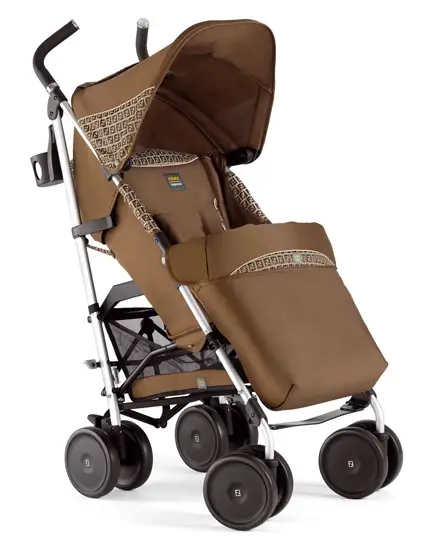 Fendi is really diving into the children's fashion world full force! After first partnering with Simonetta for a kids' fashion line, they have now partnered with Italian stroller company Inglesina to release a luxury stroller for the fashionable baby…and mom.
In addition to the stroller, the Fendi-Inglesina line will also include a pram and a baby carrier which boasts of a perfect and a seamless integration of child safety and design elements inspired by the Rome-based fashion house's style.
Fendi and Inglesina have decided to embark on a partnership for the launch of a line of accessories dedicated to infancy. This is the fruit of a fusion between the design of the much celebrated Roman fashion house and the know-how of the famous brand leader for baby products.
A shared agreement between two significant representatives of "Made in Italy", and, although coming from very different worlds, they are entwined together by a strong entrepreneurial tradition and a profound sharing of values such as elegance, high-quality and innovation.
The new line of Fendi-Inglesina products includes: the stroller, practical and manageable; the pram, a traditional product from the Vicenza house reinterpreted according to the Fendi style and finally the baby carrier, a fashion accessory to enjoy the pleasure of the first outings together, guaranteeing warmth and security for the baby. The colour palette combines the refined tones of cream with those of mahogany and blue. The whole line is enhanced with iconic features of the house, which has always been an emblem of class and style.
The liaison with Inglesina continues along the road taken by Fendi in its choice of Italian partners of excellence, such as Simonetta, to whom was entrusted the children's clothing lines of the house, and who will take on the role of product distribution for the Fendi-Inglesina brand at selected and prestigious points of sale around the world.
This is a union of three companies that symbolise "Made in Italy", a synonym of excellence and reliability, an expression of a perfect synthesis between tradition, craftsmanship and exclusivity.
The line will be sold in select stores worldwide starting in 2012.