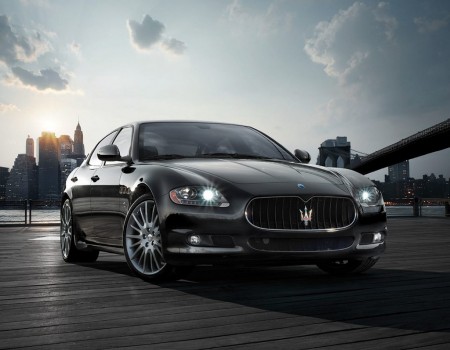 With the complete replacement not due until 2012, Maserati has wisely developed a mid-lifecycle update for its sumptuous sedan. The newly redesigned 2009 model should remain the same until 2012.
Maserati, the world-renowned automaker of both race and sports cars, hand-built its first automobile nearly a century ago in the Italian town of Bologna. Today, Maserati is based in Modena and is part of the Fiat Group, sharing technology with other notable high-performance luxury automakers such as Ferrari and Alfa Romeo. Its flagship sedan, the Maserati Quattroporte, first arrived on the automotive scene in the early 1960s. Always designed as a powerful 4-door luxury car (Quattroporte translates to literally mean "four doors"), the largest Maserati is now in its fifth generation. The current model, introduced at the Frankfurt Auto Show in 2003, has been significantly updated for the 2009 model year.
Model Lineup
Two different Maserati Quattroporte sedans will be sold in 2009. The standard Quattroporte is fitted with the familiar 4.2-liter 8-cylinder engine, found under the hood of last year's model. It is rated at 400 hp, and sends power to the rear wheels through a ZF-sourced 6-speed automatic transmission (the Quattroporte no longer offers the sequential transmission from earlier years). The new high-performance Quattroporte S adopts the new 4.7-liter 8-cylinder engine shared with Maserati's GranTurismo S. With greater displacement, it is rated at 425 hp. The Quattroporte S will share the same 6-speed automatic transmission as the standard model.
Design
The Italian automaker has updated the exterior of the Quattroporte sedan for the new model year. The front fascia has been redesigned to adopt the traditional Maserati vertical slats, a design cue shared with the GranTurismo. Replacing the incandescent bulbs in the front and rear light assemblies are new LEDs. The latest lighting technology offers a more durable and energy-efficient illumination. The molding under the doors has also been redesigned, as have the bumpers. The driver and passenger exterior mirrors have been re-shaped, and feature a more streamlined mounting system. The interior of the Quattroporte is now fitted with a state-of-the-art entertainment and navigation system, and the primary and secondary controls have been refined. Two new shades of leather, Marrone Corniola and Sabbia, replace beige in the interior pallet. Maserati points out that these unique colors are only available on the 2009 Quattroporte and Quattroporte S. While the new models are being introduced worldwide in July 2008, the Italian sedans aren't expected in showrooms until the fourth quarter of this year.
Quattroporte Base Sedan    $119,750    400 hp 8-cylinder    12 city / 18 hwy
Quattroporte S Sedan    $125,750    425 hp 8-cylinder    11 city / 18 hwy