Generating emotions with her character and exclusivity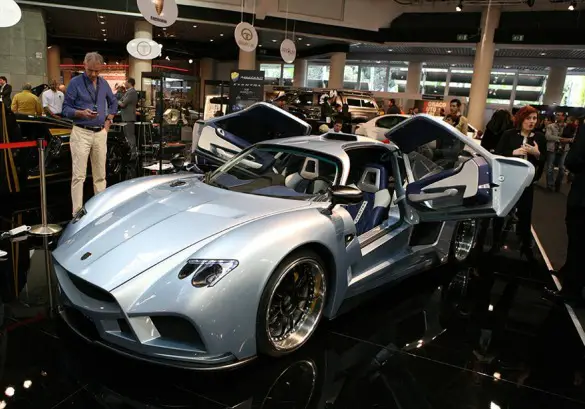 Italian coachbuilder Mazzanti has formally introduced the Evantra V8 at the 2013 Top Marques Monaco show.
Only five, individually-personalized units will be hand-made in Italy each year, with the bespoke supercar powered by a 7.0-liter V8 rated at 701 hp and 625 lb-ft of torque.
Power from the mid-mounted Corvette engine, which boasts titanium valves and connecting rods, is sent to the rear wheels via a paddle-shifted six-speed sequential transmission.
With a lightweight chrome-molybdenum chassis helping the Evantra post a 1,300 kg curb weight, 62 mph comes in at just 3.2 seconds en route to a top speed of over 218 mph. F1 and Le Mans consultant Ysim helped to fine-tune the car's design for optimal aerodynamic efficiency, while highlights of the chassis include 20-inch OZ alloys, Brembo brakes (with optional carbon-ceramics), and electronic adjustment of the engine and transmission ranging from Strada to Corsa. There are also two body choices: Pro-Body is made of carbon-fiber composite, and the One-Body is made of aluminum, which can be personalized to customer's exact specifications resulting in a one-off finish.
The interior features leather prepared with a special aniline treatment, and can be customized with a range of options including exotic leather and precious materials. The center console sports data acquisition system from AIM and a Bosch audio-navigation system, while the Tricolore engine start button can be found on the headliner and the Nardi steering wheel contains a small display indicating the current gear.
Mazzanti is now taking orders for the Evantra V8. Since it is very customizable and only 5 are hand-built each year, if you're interested make sure you have large amounts of cash and patience. Each model takes months to complete and will likely come with a hefty price tag.
For more info visit their website: Mazzanti Evantra