Italian luxury cashmere brand opens in Soho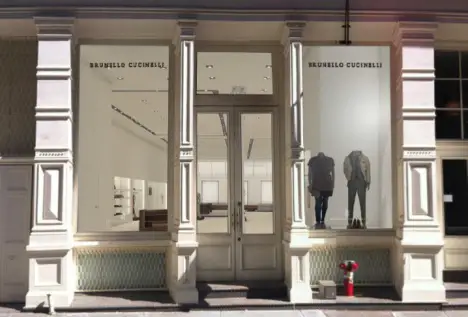 Brunello Cucinelli realizes where investment pays off…the most dynamic region right now for the luxury sector — the US market. The Italian luxury cashmere brand has just opened its third store in New York.
Following openings on Madison Avenue and on Bleecker Street in the West Village, it has now opened in the Soho neighborhood with a 4,300-ft space located at 136 Greene Street, neighboring Apple, Google's first-ever store, as well as chic brands such as Dior, Chloe, Louis Vuitton and Stella McCartney, the company said in a statement.
The two-story location unveils the new concept designed by the Italian architect Luigi Fiorentino with a modern and bright style to be applied to all Brunello Cucinelli's stores. The lower level, in particular, is dedicated to the men's range with a tailoring service.
This opening brings the total number of Brunello Cucinelli stores in North America to 12. In 2015, the brand plans to open three new stores in Honolulu, Houston and Vancouver. This will bring its monobrand stores in the North American market to 15, while it has 106 worldwide.
The United States is the brand's largest market, making up 34.5% of total sales. In 2014, sales in the market amounted to 122.9 million euros, — a 12.7% increase compared to 2013.