24,000 square foot space likely to rent for $8 million in annual rent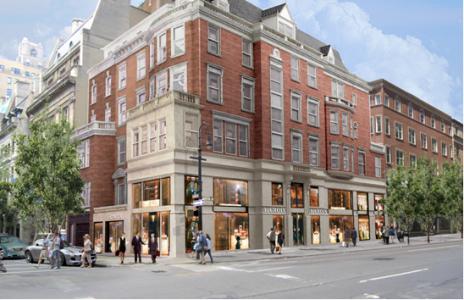 Italian luxury house Bottega Veneta (Kering Group) is opening a new flagship store in New York at 740 Madison Avenue in New York. The new store covers 24,000 square feet and is made up of  3 buildings. Bottega Veneta has been operating a flagship store on Fifth Avenue, with the other two smaller stores likely to merge into the new larger flagship store space.
The space that Bottega Veneta will occupy neighbors Wildenstein & Co.'s art gallery and headquarters at 19 E. 64th St. The gallery building opened in 1932; the neighboring townhouses were purchased over several years as the business expanded its library and research space, Mr. Wildenstein said.
Mr. Wildenstein said he began consulting with Cushman & Wakefield several years ago about 740 Madison Ave., eventually deciding to combine the three townhouses for a larger retail space on Madison Avenue. The initial concept was to create two floors of retail with the top four floors as residences.
But then he heard Bottega Veneta was looking for a location for a flagship store, Mr. Wildenstein said.
"It's very unusual to occupy a space of this size on the avenue," said Jim Downey, executive director at Cushman & Wakefield, who represented Bottega Veneta in the deal with Eric Le Goff and Sarah Mohr Fabian.
Bottega Veneta will likely pay around $8 million in annual rent for this new flagship store space.